The Bride from the Brothel [Part 1]
Are you ready for some good news?
God first loved us!
Today's Text: "Beloved, let us love one another, for love is from God, and whoever loves has been born of God and knows God. Anyone who does not love does not know God, because God is love. In this the love of God was made manifest among us, that God sent his only Son into the world, so that we might live through him. In this is love, not that we have loved God but that he loved us and sent his Son to be the propitiation for our sins. Beloved, if God so loved us, we also ought to love one another." (1 John 4:7–11, ESV)
We have been studying 1 John together during our radio broadcasts this month, learning about God's epic love for us. Here in chapter 4, John makes an inextricable connection between knowing God and being loved. He says both, "whoever loves knows God" (v. 7) and "anyone who does not love does not know God, because God is love" (v. 8). In other words, if you know God, then you will know His love, His love will be in your heart, you will love others, and you will love God.
God's whole plan for transforming His people was to love the people. Although He commanded His people to love God and others, people couldn't follow those commands. The prophets thundered out exhortations to the people, but still the people couldn't love God. Then God sent a message through the prophet Jeremiah:
""Behold, the days are coming, declares the Lord, when I will make a new covenant with the house of Israel and the house of Judah, not like the covenant that I made with their fathers on the day when I took them by the hand to bring them out of the land of Egypt, my covenant that they broke, though I was their husband, declares the Lord. For this is the covenant that I will make with the house of Israel after those days, declares the Lord: I will put my law within them, and I will write it on their hearts. And I will be their God, and they shall be my people. And no longer shall each one teach his neighbor and each his brother, saying, 'Know the Lord,' for they shall all know me, from the least of them to the greatest, declares the Lord. For I will forgive their iniquity, and I will remember their sin no more."" (Jeremiah 31:31–34, ESV)
Though the people were unfaithful, God made a covenant of steadfast love with His people, by which they all would know Him. God sent his Son into the world, so that through Jesus we would be cleansed of sin and have opportunity to know the Father. To know the Lord is to know love, and if you know love, then you will love others. And that's the gospel!
---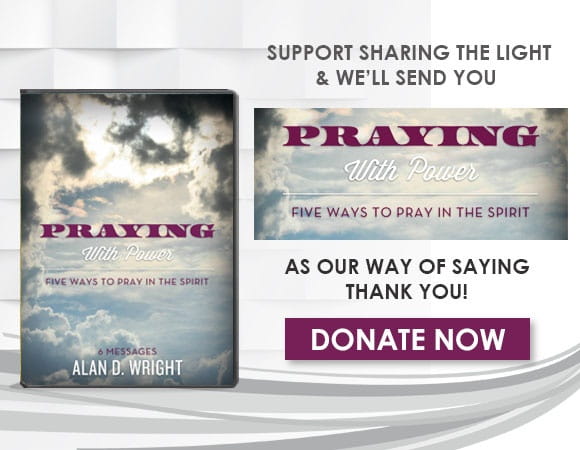 For more information please visit SharingtheLight.org.
Listen to the latest broadcast on OnePlace.com.