From Stranger to Royal Priest
Are you ready for some good news?
You are a "chosen race!"
Today's Text: "But you are a chosen race, a royal priesthood, a holy nation, a people for his own possession, that you may proclaim the excellencies of him who called you out of darkness into his marvelous light." (1 Peter 2:9, ESV)
If we are "in Christ," it's because He "chose us in him" (Eph. 1:4).
For much of my Christian life, the idea of being "chosen" caused me no delight because I associated the concept with hyper-Calvinistic teachings that depicted people as mere puppets. For years, being chosen didn't sound like good news because it seemed to steal all free will (and how, I wondered, could less free will be good news?). Or, as my brilliant, irreverent Executive Pastor has joked: "Some Calvinists seem to think God is just playing duck, duck damned with people" – ha, as if God is randomly predetermining eternity with no regard to human will whatsoever.
Such misreadings of the Reformed faith and misunderstandings of the Gospel shaped my early prejudice against the Biblical notion of being chosen.
Today, however, the thought of being chosen is the comfort I pillow my head upon at night and the energy underneath my hope that awakens me in the morn.
The key to understanding your chosenness is seeing your place "in Christ." When you are a Christian, you are caught up in the glory of a New Covenant, which was established between Father God and His Son. The Son fulfilled the command for human obedience and righteousness. The Father has nothing but blessing and love for the Son who merited His place as Lord of all. When you accept Christ, you are "in Christ." Thus, the Father's electing, irreversible love is set upon you because you are in Christ.
Years ago, my wife's younger sister, Mary, tragically died after a noble fight against cancer. She and her husband, Joe, had four small children at the time – Sarah, Richard, Alex and Mary Grace. After Mary's death, we moved to a house nearer to them so we could help if need be. The children are grown now, and Joe's been happily remarried for many years, but we would still do almost anything for our nieces and nephews.
I love Mary's kids. Why? Is it because they are so special (well, I think they are), but, no, it's not because of something meritorious about them. I love Sarah, Richard, Alex and Mary Grace because I first loved Mary. So, before the children were born, I chose to love them "in Mary." I chose them "in her." My love for the children isn't random, capricious love. It is the deepest sort of love. When I see those children, I see Mary. If Mary had had other children, I would love them equally. ANYONE in Christ is "chosen in him" and the Father's love is eternally set up them. In Christ, we are a chosen race. And that's the Gospel!
---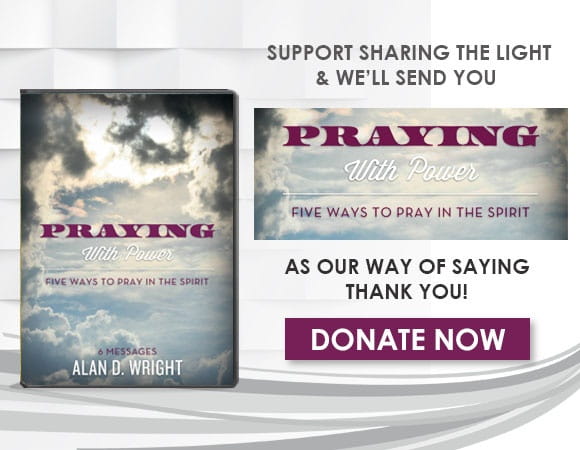 For more information please visit SharingtheLight.org.