The Terrible, Wonderful Day of the Lord [Part 2]
Are you ready for some good news?
Though there is a future "Day of the Lord," the decisive "day" has already taken place 2000 years ago in Jerusalem. And, on that Pentecost day, there was joy and laughter and celebration – that's also what the future day of the Lord will be like for the Christian.
Today's Text: "For these people are not drunk, as you suppose, since it is only the third hour of the day. But this is what was uttered through the prophet Joel…." (Acts 2:15–16, ESV)
In the Old Testament, the "Day of the Lord" was a recurring theme pointing to the decisive judgment of God against sin and the rich rewards of God for His faithful ones. It was a day that was envisioned as a day of shaking and fire and wonders. Every Hebrew family anticipated it because prophets like Joel foretold it:
"Blow a trumpet in Zion; sound an alarm on my holy mountain! Let all the inhabitants of the land tremble, for the day of the Lord is coming; it is near, a day of darkness and gloom, a day of clouds and thick darkness! Like blackness there is spread upon the mountains a great and powerful people; their like has never been before, nor will be again after them through the years of all generations." (Joel 2:1–2, ESV)
When Peter preached the first Christian sermon at Pentecost, he declared, "This is that of which Joel spoke." The great day of the Lord had arrived – with tongues of fire and Holy Spirit wind and earth shaking news.
Through the cross and resurrection, God judged sin and made it possible to pour out unspeakable blessings upon His people. At Pentecost, as believers were filled with the very Spirit of God, Peter realized that the great, terrible day of the Lord was the most wonderful day imaginable for the Christians. Evil was judged decisively – the devil was defeated. Righteousness was restored to humanity through the true Human, Christ Himself. The dreaded day of the Lord had arrived and it was full of glory unto the believer.
There will be a final coming of the Lord (a future day of the Lord) – but, be assured, the most decisive day of the Lord has already come – Peter said so. So, when you're in Christ, you can look forward to meeting your Maker. It'll be the most wonderful day of your life. And that's the Gospel!
---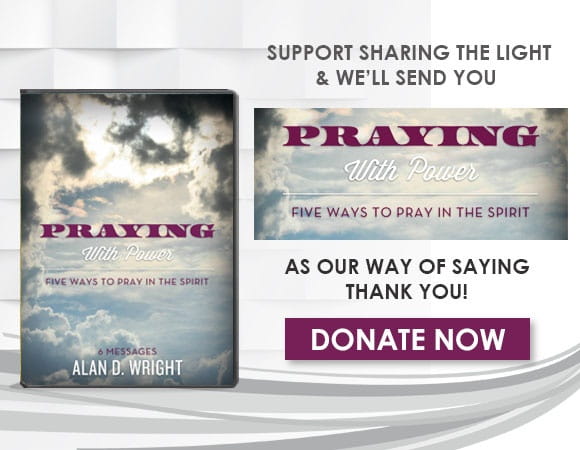 For more information please visit SharingtheLight.org.
Listen to the latest broadcast on OnePlace.com.