Fruit and Gifts [Part 1]
Are you ready for some good news?
The inheritance of every Christian includes both gifts of the Spirit and the fruit of the Spirit.
Today's Texts:
"If I speak in the tongues of men and of angels, but have not love, I am a noisy gong or a clanging cymbal." (1 Corinthians 13:1, ESV)
"Now there are varieties of gifts, but the same Spirit;" (1 Corinthians 12:4, ESV)
"But the fruit of the Spirit is love, joy, peace, patience, kindness, goodness, faithfulness, gentleness, self-control; against such things there is no law." (Galatians 5:22–23, ESV)
There once was a boy who overheard his parents talking and learned of his father's plans to chop down the apple tree in the back yard because it no longer bore any apples. But the boy loved that apple tree. It's limbs extended to the boy's bedroom window. It was perfect for climbing out the window and into the tree. To save the tree from his father's axe, the boy had a plan. He went to the store and bought some bright red apples and some string. Imagine the parents' amusement the next day when they saw the tree suddenly full of apples dangling from its branches!
The fruit of the Spirit isn't adornment that is attached to the Christian's life. The fruit of the Spirit is the product of the Spirit's presence in the believer. You can no more manufacture your own love or peace or patience than a dead tree can produce apples.
Likewise, the gifts of the Spirit aren't skills that a Christian acquires. They are supernatural impartations from the Spirit Himself.
Some traditions have put more emphasis on the fruit of the Spirit – the development of a Christian character. Other traditions have put more emphasis on the gifts of the Spirit – the power of God at work. But the abundant life consists of both.  And it matters greatly to the heart of God that the gifts and the fruit abide together. If there is no love, then a supernatural gift like tongues is are a noisy gong.
The Spirit bears fruit and the Spirit gives gifts. Both are yours in Him. And that's the Gospel!
---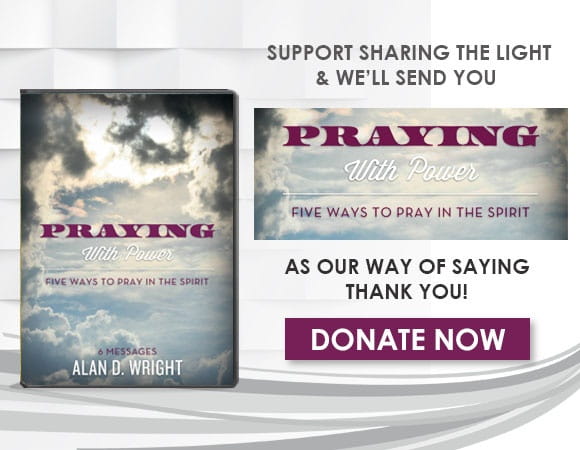 For more information please visit SharingtheLight.org.
Listen to the latest broadcast on OnePlace.com.