Word and Spirit [Part 3]
Are you ready for some good news?
If you have all Word and no Spirit, you dry up. If you have all Spirit and no Word, you blow up. But when you have Word and Spirit, you grow up!
Today's Text: "When the Spirit of truth comes, he will guide you into all the truth, for he will not speak on his own authority, but whatever he hears he will speak, and he will declare to you the things that are to come. He will glorify me, for he will take what is mine and declare it to you." (John 16:13–14, ESV)
John Wimber, remembered as the leader of the Vineyard Church, had a radical conversion. In the words of Christianity Today, Wimber was a "beer-guzzling, drug abusing pop musician, who was converted at the age of 29 while chain-smoking his way through a Quaker-led Bible study."
After becoming a voracious reader of scripture, fascinated by all the accounts of miracles in the early church, Wimber approached a lay leader in his church with a childlike question. The conversation went like this:
Wimber: "When do we get to do the stuff?"
Church leader: "What stuff?"
Wimber: "You know, the stuff here in the Bible. The stuff Jesus did, like healing the sick, raising the dead, opening blind eyes – stuff like that."
Church leader: "We don't do that stuff anymore."
Wimber: "Man – you mean I gave up drugs for this?"
Remembering Wimber's humorous entry into a traditional church that didn't do the stuff  always makes me chuckle, but it points to an all too common reality. Too often the church is full of the Word, but not so full of the Spirit.
The Spirit fills the Word – thus, the Bible is inspired. And the Spirit confirms the Word – thus, the Bible is alive.
The key to Christian growth and joy isn't Word or Spirit, but Word and Spirit. And that's the Gospel!
---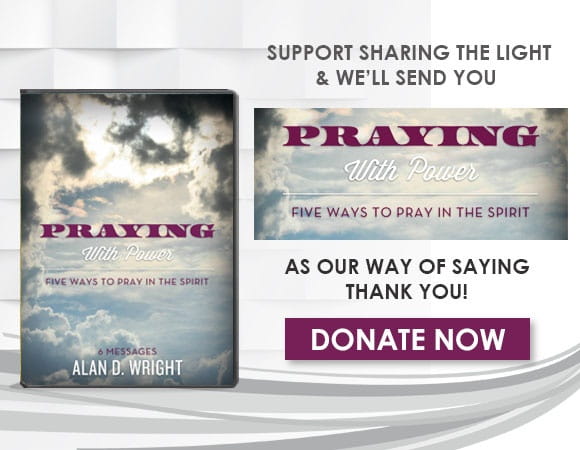 For more information please visit SharingtheLight.org.
Listen to the latest broadcast on OnePlace.com.