Faith and Works [Part 1]
Are you ready for some good news?
Faith works! And, yes, that's really good news.
Today's Text: "So also faith by itself, if it does not have works, is dead." (James 2:17, ESV)
Although Martin Luther called the Book of James an "epistle of straw," James does not conflict with the gospel of grace.
To say "faith works" is to say that faith is effective. It means that God moves through our faith. In that sense, God is at work through our faith. To say "faith works" is also to say that faith works for the believer. If a basketball player believes that he's going to make the game-winning basket, he's more likely to make it. That's the way faith works. It moves us towards the success we envision. And to say "faith works" is to say that faith always moves into action. When you believe something, you act on your belief. You demonstrate what you believe by what you do.
It is always essential to read every scripture in context of the entire story of the Bible. Someone might pluck out a text like ours in James and suggest that the Christian life is really about works righteousness. But to read a single text about the importance of our works and turn it into the primary message is to miss the whole narrative.
For example, if I told my daughter Abby to clean her room and she responded by declaring that she was nothing more than a slave and that the whole reason that we had her was so that she could work for us like Cinderella, she would be missing the true narrative. The real story of our family is about love, joy, laughter, blessing, and ongoing sacrifices that the parents make for the children in order to release them into a rich, God-given destiny. That's the big story. The "clean your room" part of the narrative is a simple expression of responsibility and partnership.
The story of scripture is not about God creating a people who could work for him like slaves. The story of scripture is one big narrative about the love of God that compelled him to send a Savior at infinite personal cost. Every command in the Word of God must be read in light of the big story of God's redemptive love. However one interprets the epistle of James, it cannot be in conflict with Paul's clear word to the Romans: "For by works of the law no human being will be justified in his sight, since through the law comes knowledge of sin." (Romans 3:20, ESV) We are in no way saved by works. But faith, real faith, works. And that's the Gospel!
---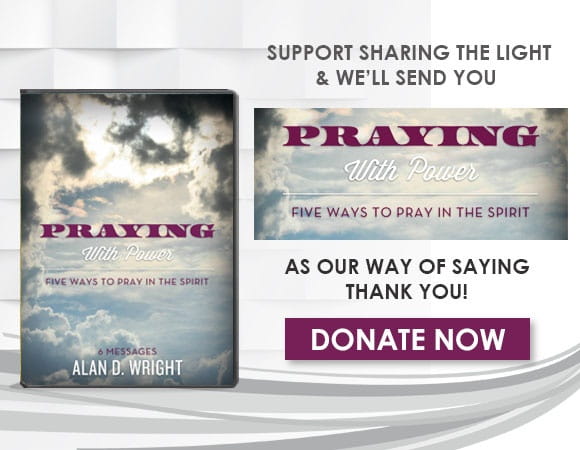 For more information please visit SharingtheLight.org.
Listen to the latest broadcast on OnePlace.com.