A Psalm for the Season of Confusion [Part 1]
Are you ready for some good news?
God doesn't author confusion; God reveals truth.
Today's Text: "Truly God is good to Israel, to those who are pure in heart. But as for me, my feet had almost stumbled, my steps had nearly slipped." (Psalm 73:1–2, ESV)
The story is told of an "honest smuggler" who loaded his donkeys with two bails of straw on each animal and crossed the border. Each time, when the customs officer stopped to ask him about his profession, the man would reply, "I am an honest smuggler." So, upon every border crossing, the customs officer would inspect the bails of straw looking for hidden diamonds or coins or other contraband but he never found anything.
This went on week after week until, finally, the "honest smuggler" was so rich he retired.
Many years later, the customs officer (who had long since retired also) bumped into the "honest smuggler" and asked: "OK, you can tell me now – what were you smuggling?"
The "honest smuggler" finally confessed: "Donkeys."
Sometimes you just aren't looking at something the right way!
Psalm 73 is deep and personal to me because I went through a time of profound intellectual struggle toward the end of college. My feet had almost stumbled – my steps had nearly slipped.The psalmist shares the unvarnished confession of his heart – when he looked at the unanswered questions of life and saw how the wicked appeared to flourish, it was oppressive to him. It wasn't until he "entered the sanctuary" that peace came. He apprehended spiritually what he couldn't comprehend mentally. His paradigm shifted.
Sometimes we just aren't seeing the fullness of a situation. When the psalmist came into the "sanctuary", the realm of the Spirit, there he saw into God's ultimate goodness. He understood the ultimate calamity of the wicked and he saw the eternal goodness of God. If you are confused because of your circumstances, ask God to show you the bigger picture. With the psalmist you can discover that God is "your portion". And that's the Gospel!
---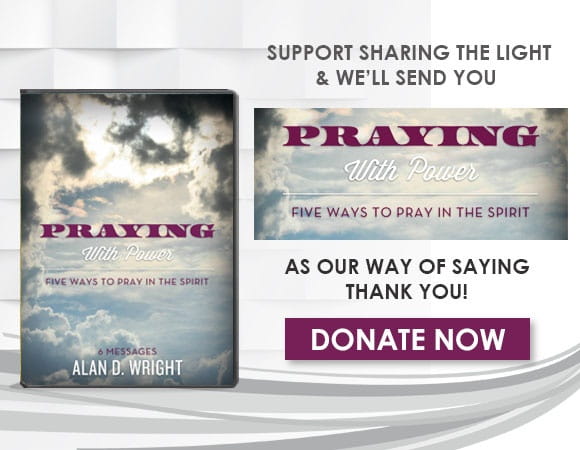 For more information please visit SharingtheLight.org.