And God Knew [Part I]
Are you ready for some good news?
God hears. God remembers. God sees. God knows.
Today's Text: "And God heard their groaning, and God remembered his covenant with Abraham, with Isaac, and with Jacob. God saw the people of Israel—and God knew."  (Ex. 2:24-25)
Here are the Hebrew people, enslaved for hundreds of years, crying out to God with groanings beyond words. Ever been in that place? You've endured so much for so long you really don't have any words left? Just a cry like an infant in the night.
Exodus 2:24 highlights four powerful Hebrew verbs.
God hears.
God remembers.
God sees.
God knows.
The first verb, "shema", doesn't just mean, "hear" but also carries the idea of "obey."
I decided a few years ago one day to clean my moldy basketball goal. The backboard was blackened with fungus. I was going to conquer it. I asked my wife for our most powerful household cleanser. She gave me the squirt bottle, but warned: "This stuff is loaded with bleach – you better put on some old clothes. Be careful with this stuff." I nodded and climbed up on my stepladder with a rag and the spritz to begin cleaning the backboard … in my nice jacket. I walked in a few minutes later, standing there in my splotched, ruined garment, stared at my wife and said, "I didn't listen."
"Shema" is an astounding verb to use in connection with God because to say, "God heard," is to say that God "obeyed" the cry. We would never say God obeyed (that'd be role reversal wouldn't it?) but, on the other hand, such is the heart of God toward His people.  In one prophetic instance, the Lord even compares Himself to a nursing mom: ""Can a woman forget her nursing child, that she should have no compassion on the son of her womb? Even these may forget, yet I will not forget you." (Isaiah 49:15, ESV)
When you cry out to God in your pain – God hears. And that's the gospel!
---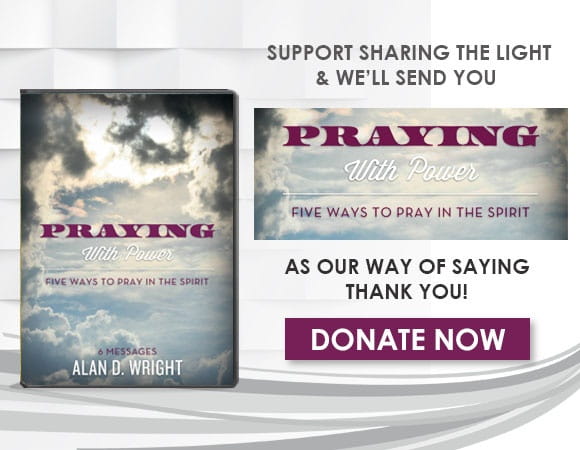 For more information please visit SharingtheLight.org.