Faster Pastor and Heirs of Grace [Part 2]
Are you ready for some good news?
When you accept Christ, you are adopted as a permanent heir of God.
"And because you are sons, God has sent the Spirit of his Son into our hearts, crying, "Abba! Father!" So you are no longer a slave, but a son, and if a son, then an heir through God." (Galatians 4:6–7, ESV)
The act of adoption was a magnificent legal transaction in Paul's day. Sometimes a wealthy man had no heir and he would select one of his own slaves and adopt him as a son so that his inheritance could be released. No longer a slave, the adopted son had ownership in the father's estate. Imagine the transformation! A slave becomes an heir!
The redemptive plan of God has always been greater than freeing you from the tyranny of sin. The plan has always been about more than forgiveness. The plan of God has always been to make us heirs – to give us an inheritance, a territory, a realm of spiritual influence. Because you are a "son" (not a gender specific word but a reference to the first born heir's position), God has sent the Spirit of God into your heart. So you are no longer a slave, but like a celebrated son. And if you are a son, an heir through God.
You were adopted because you were loved. You were wanted, and you have a destiny. You're adopted because you have a rich Father in heaven who wants to pour out a spiritual inheritance in your life. God is the subject. He is the initiator. He is the actor. We are the recipients.
Receiving that truth changes our lives. As the Holy Spirit assures you that you are an heir and that you are promised glory with Him forever, something shifts in your thinking. Instead of thinking, "I'm going to play it safe," you realize you have territory to take. You start living your life as one who is spiritually rich, empowered to bless the world.
Run the race of life as an heir with confidence, not as an orphan in fear. You have been delivered by God's great work through Jesus Christ. You're adopted. And that's the Gospel!
---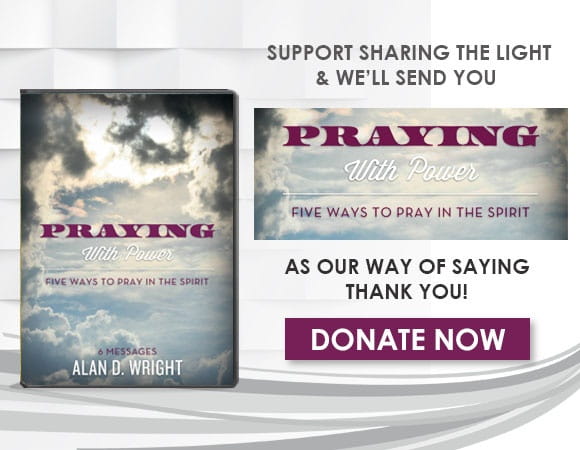 For more information please visit SharingtheLight.org.
Listen to the latest broadcast on OnePlace.com.