From Fear to Faith [Part 1]
Are you ready for some good news?
If you have a little faith, then you have faith. And when you have faith, anything is possible.
Today's Text: "Jesus immediately reached out his hand and took hold of him, saying to him, "O you of little faith, why did you doubt?"" (Matthew 14:31, ESV)
Peter's brief walk on the water is intriguing at many levels. Should we read the account as a positive reflection on Peter? He had enough faith to walk on water for a little while. Who, other than Jesus, has ever walked on water? Or is it negative picture of Peter revealing how flimsy his faith was and how quickly he could sink? Was it good that Peter asked Jesus to tell him to come to Him – or was it brash and presumptuous?
Those are all certainly intriguing questions. But here's the greater matter that has always puzzled me about the text. Jesus never cursed his disciples; He is the Lord of blessing. Remember, Jesus is the One who blessed the shifty fisherman by calling him a "Rock" even when Jesus knew that Peter would deny the Lord three times. But here, it seems that Jesus is calling Peter by a curse – "You have so little faith."
Would Jesus utter a faithless, negative forecast over Peter's life? Of course not.
The ESV translation, like most, doesn't quite capture the original utterance of Jesus. In the Greek original Jesus uses just one word to label Peter here. It literally should read: "Little Faith One." In fact, "Little Faith Ones" was one of Jesus' pet names for the disciples.
To call Peter "Little Faith" wasn't to curse the disciple; it was, in a roundabout way, to bless him. The fact that Peter had "little faith" meant that he had some faith!
Charles Spurgeon put it so well in his classic sermon on the story:
"… You will observe the Savior did not say, "O you of no faith," or, "O you of pre- tended faith," but, "O you of little faith." There are times when we would give all that we have if we could only have our Master's assurance that we have even a little faith! If He does but acknowledge that it is faith, then the root of the matter is in us! I would rather have great faith than little faith, but I would rather have little faith than have great presumption and mistake it for holy confidence.
I think Peter went back to the boat and said, "Did you hear that guys?! Jesus says I have a little faith! I walked on water because I have some faith!" When you have the seed of real faith, miracles happen. And that's the Gospel!
---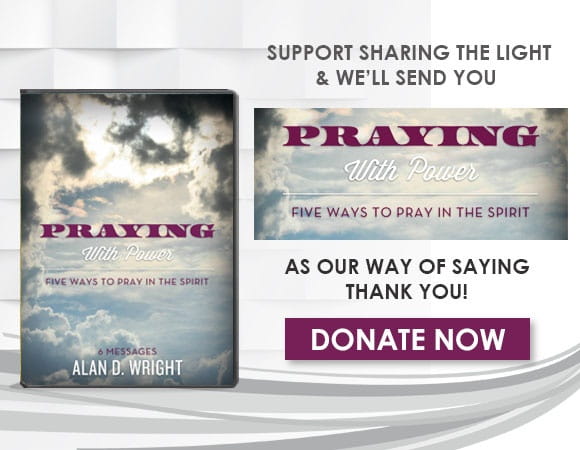 For more information please visit SharingtheLight.org.
Listen to the latest broadcast on OnePlace.com.