The Agreement Prayer [Part 2]
Are you ready for some good news?
When you agree with God's promises in prayer, your prayer life takes deep root and your faith is exceedingly heightened.
Today's Text: "And Mary said, "Behold, I am the servant of the Lord; let it be to me according to your word." (Luke 1:38, ESV)
I love Mary's prayer because it wasn't presumptuous or pitiful. The teenage Nazarene would have never dreamt of asking God for the unspeakable honor of being the virgin mother of the Messiah. But God approached her. God made a proclamation to her. In return, she agreed with the promise: "Let it be just like you've said."
Mary's prayer is the model for all powerful prayer. Deep, powerful prayer doesn't originate with our fleshly desires. It originates with God. God is more for you than you can imagine.
A friend shared with me that, years ago, his brother was a server at one of Atlanta's finest restaurants. One evening, he served a single, distinguished customer. The customer seemed to have all the appearances of wealth, so the server gave him thorough attention. The waiter made sure the man's every need was met – water glass always full, food served piping hot, table cleared meticulously.
To his shock, the server noticed that the customer got up from the table and left the restaurant without paying his bill! In shock and anger, the waiter ran outside, tracked the man down in the parking lot, grabbed him and demanded his due: "I gave you excellent service. The food was exquisite. I can't believe that you left without paying your bill and without leaving me a tip. Now pay up!"
Imagine the server's dismay when the customer said, "Hold on, son. Did you not check with your manager? Son, I own the restaurant. I came in to see how things are. You did give me excellent service and I left you a $100 tip with the manager."
Gulp.
You don't need to grab God by the collar and demand that He pay up. He is more for you than you can be for yourself. He has already issued you promises that are beyond your imagination. Your prayer life will grow deep by simply discovering and agreeing with God's good intentions – like Mary. God has given you His all. Agree with His goodness and you will discover new spiritual riches in prayer. And that's the Gospel!
---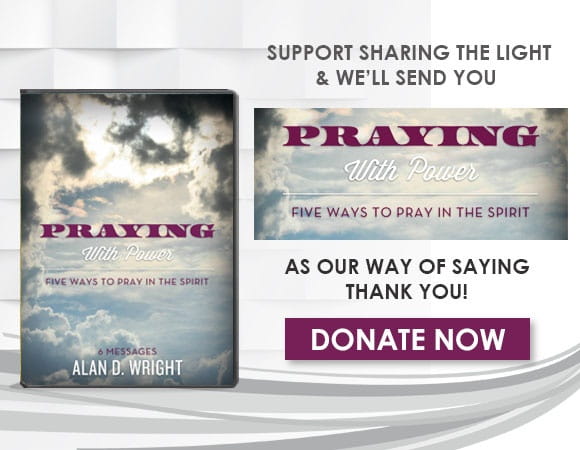 For more information please visit SharingtheLight.org.