Free Yourself, Be Yourself Recap
Are you ready for some good news?
The message of the Gospel is always hopeful and never condemning. The Gospel takes the shame off us!
Today's Text: "For the Scripture says, "Everyone who believes in him will not be put to shame."" (Romans 10:11, ESV)
Today's radio broadcast recaps our thorough series on the subject.  Being free begins with acknowledging that shame is a lie. As soon as sin came into the world, this deception came with it: "You don't measure up. You need to figure out why and correct it in order to be accepted." In the gap between who I am and the person I feel I ought to be, hell conspires to cause me tremendous anxiety.
The Biblical word for the lie and its diabolical system of thought is shame. It is a spiritual stronghold – a silent tyrant who can rule us from within. It can drive toward perfectionism. It can blur our boundaries and make us codependent. It can drag us into despair. It can lure us into addiction.
Many live with shame without knowing what to call it. In fact, twenty years ago I wouldn't have even imagined shame was a personal issue for me. Much less could I have described its destructive impact in my soul. It is a liberating and joyful experience when the love of Jesus begins to flood our lives and we see how his acceptance can change our shame-based thinking.
The proclamation of the Gospel has power to tear down the stronghold of shame. But, sadly, many in our culture associate preaching with shame. "Don't preach to me!" they say. "Spare me your sermon!" When the gospel is presented in its purest form, every desperate, sick, or needy person will walk or crawl or run to hear it preached. The Gospel is the opposite of shame. The Gospel is an announcement of full acceptance in Christ. The Gospel means the lifting of the gnawing anxiety that comes with "not measuring up."
The journey to healing is worth it (please take advantage of our Free Yourself resources). People of God, in Christ, shame off you. That's the gospel
---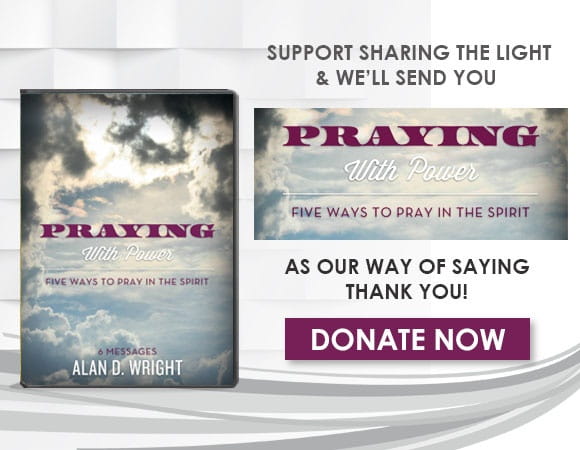 For more information please visit SharingtheLight.org.
Listen to the latest broadcast on OnePlace.com.