The Lord Bless You and Keep You [Part 2]
Are you ready for some good news?
The Lord's face is smiling upon you.
As we continue our series on "The Power of the Blessing," we turn again today to the priestly (or Aaronic) blessing.
Today's Text: "The Lord bless you and keep you; the Lord make his face to shine upon you and be gracious to you; the Lord lift up his countenance upon you and give you peace." (Numbers 6:24–26, ESV)
When someone's face "shines" upon you it means the person is glad to see you. Likewise if someone lifts his countenance upon you it means he or she has lifted his/her face (and gaze) to see you. If someone is ashamed of you, he doesn't want to look at you. To "lose face" means the other doesn't even want to see your face (and you just want to hang your head).
To bless others by evoking the smile and lifted countenance of God upon them is to release the assurance of God as the best of fathers. If you were to walk in the throne room of God, His face would smile upon you. He wouldn't be the busy father unwilling to pick up his face from the newspaper as if what he was doing was more important than you. God lifts up His face when He sees you.
Counselor Leanne Payne has called a mother's smile towards her baby the "umbilical cord of the soul." Her beautiful word picture is consistent with numerous studies about the power of the loving gaze of a parent upon a newborn child. Babies interpret the smile as affirmation. It's extraordinary that a tiny baby, who has no words and cannot consciously process much, has a deep connection to a parent's smile which links directly to the right side of the baby's brain.  Thus the infant translates the parent's radiant countenance as affirmation and acceptance.
If a baby is changed by the way a parent looks at the infant, how much more will you be transformed as you become increasingly aware of the Father's face shining upon you?! One Hebrew scholar has suggested that God lifting His face upon you is the image of a father lifting his toddler above his head and then the father lifting his head to smile at the child who has been hoisted upward. If God's face is smiling upon you, then you can relax. You aren't in trouble. You are loved. He delights in you.
The reason that you can be assured that God's face is smiling upon you is not because of your merit or anything necessarily delightful about who you are – it's because of the merit and delightfulness of your Savior. It means that if you are having a bad day, God is still smiling because you have been robed with the righteousness of Christ. And that's the Gospel!
---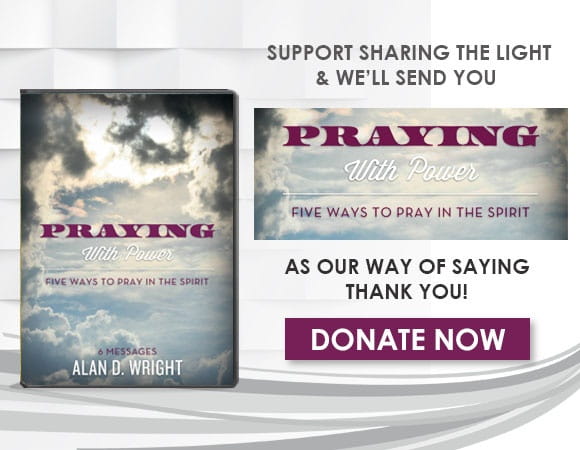 For more information please visit SharingtheLight.org.
Listen to the latest broadcast on OnePlace.com.