You're a Priest, So Go Ahead, Eat the Holy Bread [Part 1]
Are you ready for some good news?
In Christ, you're the new priesthood!
Text: "He said to them, "Have you not read what David did when he was hungry, and those who were with him: how he entered the house of God and ate the bread of the Presence, which it was not lawful for him to eat nor for those who were with him, but only for the priests?" (Matthew 12:3–4, ESV)
In 1 Samuel 13, King Saul acted like a priest by offering the burnt offering to God. Samuel reprimanded Saul, and the kingdom was ultimately stripped from him. But when David took the holy bread that only the priests were supposed to handle and eat, he wasn't reprimanded (1 Samuel 21). Instead, centuries later, Jesus commended David.
When David and his ragtag men came to Nob, they were hungry and tired. Inside the holy place in the tabernacle stood the table of the Bread of the Presence (also called the Showbread). There were 12 loaves signifying the 12 tribes of Israel. The bread was continually in the presence of the Lord. It was baked by priests on the Sabbath and eaten only on the Sabbath, only by the priests. So, when David asked the local priest Ahimilech to give him the Showbread, it was a bold thing. David wasn't a priest. But on that day, the day he and his companions ate the showbread, David took on the role of a priest.
In order to be a priest in ancient Israel you had to be born into the priestly family, washed ceremonially, clothed properly, and anointed correctly. In Christ, these things are true of you! You have been born anew into God's own family, washed by the justifying blood of Jesus, clothed in the righteousness of Christ, and anointed by the Holy Spirit. You have become the new priesthood.
What David did 1,000 years before Christ signified your great privilege to handle the holy things. Go ahead – eat the holy bread. In Christ, you are a priest. And that's the Gospel!
---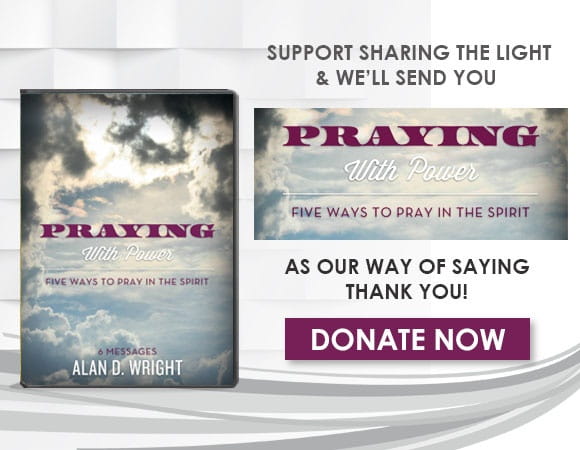 For more information please visit SharingtheLight.org.
Listen to the latest broadcast on OnePlace.com.