The God Moments of Your Life [Part 1]
Are you ready for some good news?
Your life is connected with Heaven, whether you know it or not! God is in your life every single day!
Today's text: "And he dreamed, and behold, there was a ladder set up on the earth, and the top of it reached to heaven. And behold, the angels of God were ascending and descending on it! … "Surely the Lord is in this place, and I did not know it." (Genesis 28:12, 16, ESV)
Throughout my Christian life, I've heard people urge, "You ought to have more faith." But I didn't know how. I wanted to have more faith. I was willing to try harder to have more faith. But how does we actually build our faith?
The new series we begin on today's broadcast shows the way.
Some years ago, as I was reading the Passover story, an exhortation leapt off the page. "Then Moses said to the people, "Remember this day in which you came out from Egypt …." (Exodus 13:3, ESV)
The Lord had a clear reason in mind: "And it shall be to you as a sign on your hand and as a memorial between your eyes …." (Exodus 13:9, ESV)
Remember. Commemorate. Do not forget. When I searched the scriptures with fresh eyes, I realized that the command was everywhere:
""Only take care, and keep your soul diligently, lest you forget the things that your eyes have seen, and lest they depart from your heart all the days of your life. …" (Deuteronomy 4:9, ESV)
"You shall remember that you were a slave in the land of Egypt, and the Lord your God brought you out from there with a mighty hand and an outstretched arm." (Deuteronomy 5:15, ESV)
"Bless the Lord, O my soul, and forget not all his benefits," (Psalm 103:2, ESV)
"Remember therefore from where you have fallen; repent, and do the works you did at first. …." (Revelation 2:5, ESV)
The key to building your faith today is remembering what God did yesterday. God has always been there and the more, like Jacob, that you see your life connected to Heaven, the more your faith will grow. And that's the Gospel!
---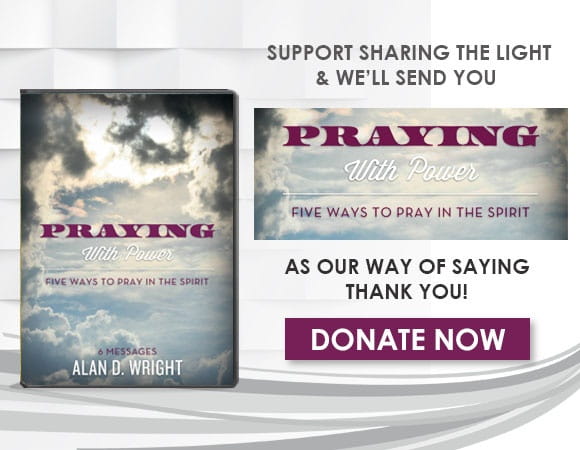 For more information please visit SharingtheLight.org.