Why Wouldn't Everyone Want to Pray in the Spirit? [Part 3]
Are you ready for some good news?
When you accept Christ, the Holy Spirit bears witness to your spirit that you are a child of God. You have a Father in Heaven. You're adopted. You're His. It means that your prayer life isn't a religious ritual – it is a heart conversation with a real Person who loves you infinitely.
Today's Text: "… at all times in the Spirit, with all prayer and supplication. To that end, keep alert with all perseverance, making supplication for all the saints…." (Ephesians 6:18, ESV)
Our radio broadcast series on the Holy Spirit concludes today with a final exposition of what it means to "pray in the Spirit." Though I affirm and embrace all the gifts of the Spirit, including the gift of tongues, the idea of praying in the Spirit is much bigger than a single spiritual gift.
When the Holy Spirit helps you in your prayer life, your intercession is linked with God's power rather than merely your own yearnings. When the Holy Spirit comes into your heart, from the start, He longs to assure you of your adoption as a child of God. The Spirit wants to show you the richness of your spiritual inheritance. He wants you to know that God is a good, good Father and that you are His child.
When Christ gave instructions to the disciples about prayer, He began by saying,
""And when you pray, you must not be like the hypocrites. For they love to stand and pray in the synagogues and at the street corners, that they may be seen by others. Truly, I say to you, they have received their reward. But when you pray, go into your room and shut the door and pray to your Father who is in secret. And your Father who sees in secret will reward you." (Matthew 6:5–6, ESV)
The problem with the hypocritical Pharisees is that they were concerned with how their prayers sounded to others. But real prayer is an intimate conversation with your Father. Thus, hearkening unto the Spirit's reassurances that you are a child of God is essential to prayer. Only inasmuch as you know that God is your Father can you pray with intimacy rather than with religious ritual.
Part of what it means to pray in the Spirit, therefore, is to pray with the help of the Holy Spirit who is constantly reminding you of your position as heir of God. You're God's child and, as such, you're a co-heir with Christ. You can pray with the power of a child of God to a perfect Father. And that's the Gospel!
---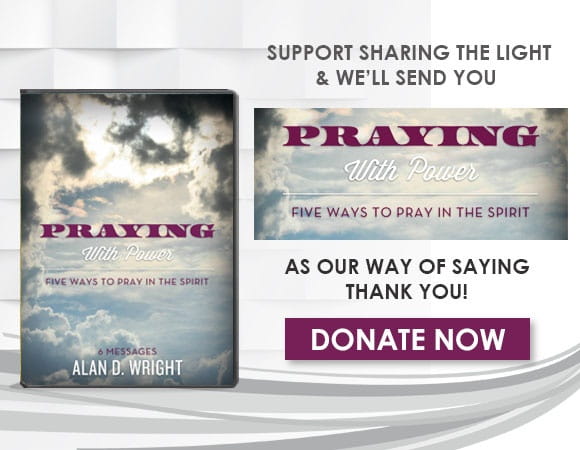 For more information please visit SharingtheLight.org.