You're the Dwelling Place of God [Part 1]
Are you ready for some good news?
The gospel is preposterous, glorious – and all true.
Today's Text: "In him you also are being built together into a dwelling place for God by the Spirit." (Ephesians 2:22, ESV)
I love this story from my missionary friend, Wycliffe Bible translator Jeff D'Jernes.
It was a dark night with a bright sky on the small volcanic island in Papua New Guinea. Jeff was gazing into the sky with one of his Papua New Guinean translation team partners, a man they called "Joe." Jeff turned to the man who had grown up on the island with no electricity, no running water, no roads, and no schools and asked: "Joe, what is that?" Jeff was pointing at the big, circular light in the sky.
Joe responded with the Arop-Lokep word for moon.
"I know that's what you call the moon," Jeff responded. "But what is it?"
"Well," Joe replied, "my father told me that one night he threw his spear so far into the sky that it stuck.  That bright object in the sky is the round end of the shaft of his spear."
Joe followed with the same question: "What did your father tell you?"
Jeff told quite a different tall tale. "My father told me that one day a bird (the Arop-Lokep word for airplane) took off from the earth in America. The bird had a big tale of fire that sent it far into the sky. When it was so far that you couldn't see it, the body of the bird broke off and the bird's head slung around the earth straight toward the moon. Inside the bird's head there were a few men who landed on the surface of the moon. All they saw was dust and rock, so the men climbed back into the head of the bird, took off into outer space and returned to earth. That's what my father told me."
I'd like to have seen the look on Joe's face! Let's admit it, of the two tall tales, Joe's was the more believable one! 
Here's the point: just because a tale is tall doesn't mean it's not true. The gospel of Jesus Christ is fantastic, cosmically powerful, completely unexpected and soaked with supernatural phenomena. Today's radio broadcast speaks to one of the most unbelievable announcements of the gospel: the believer has become the dwelling place of God. Check it out. It's a tall tale, but it's totally true. And that's the gospel. 
---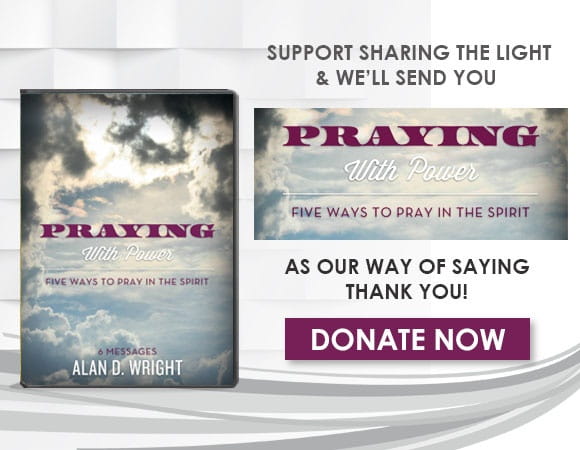 For more information please visit SharingtheLight.org.
Listen to the latest broadcast on OnePlace.com.