The Faith Building Power of God Moments [Part 1]
Are you ready for some good news?
The more you see God in your life, the more your faith will grow!
Today's Text:  "And David said, "The Lord who delivered me from the paw of the lion and from the paw of the bear will deliver me from the hand of this Philistine." And Saul said to David, "Go, and the Lord be with you!"" (1 Samuel 17:37, ESV)
For most of my Christian life, well-intended mentors and preachers implored me to have more faith. Sometimes I was plainly censured: "Your problem is you just don't have enough faith."
Of course, I always wanted to have more faith. I just didn't know how to have more faith.
When young David pleaded with King Saul for the opportunity to fight the Philistine giant on behalf of Israel, the youthful shepherd revealed the secret of deep faith. "The Lord who delivered me from the paw of the lion … will deliver me from the hand of this Philistine." In other words, because I remember God's faithfulness in the past, I feel assured of His presence today.
It's the God moment principle: how you remember yesterday will determine how you live tomorrow. If you see God in your past, your faith will grow today. Faith isn't so much a blind leap as it is deep confidence based on inward witness and historical evidence. As such, faith isn't your ability to gain mental certainty that something is going to happen as much as it is ultimate confidence in ultimate truth.
Faith isn't a pattern of mental gymnastics designed to parrot doctrines or make spiritual claims. Faith is knowing and believing truth. If a child were to trust an untrustworthy parent, we wouldn't call that faith, we would call that foolishness. If you place confidence in an abusive person, that's folly, not faith. On the other hand, if you refuse to believe someone who actually has your best in mind, that's folly in a different direction. Faith believes truth.
The practice of uncovering and celebrating yesterday's God moments builds faith because it puts you in touch with the truth about your life. You're more blessed than you know. God has always been there. He's been there in the valleys and He's been there on the mountaintops. The "God Moments" series is a spiritual treasure map designed to help you discover God where you didn't see Him before. You can see God more. And, as you do, your faith is going to grow. And that's the Gospel!
---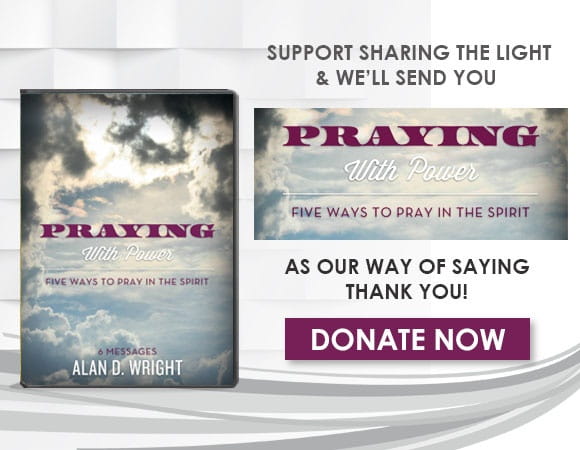 For more information please visit SharingtheLight.org.