For Now We See in a Mirror Dimly (1 Corinthians 13:12)
By: Betsy St. Amant Haddox
Today's Bible Verse Is: 1 Corinthians 13:12 - For now we see in a mirror dimly, but then face to face. Now I know in part; then I shall know fully, even as I have been fully known.
In my thirty-seven years of life thus far, I've been a member of multiple denominations in the faith. And within those denominations, I've experienced a plethora of various opinions on all manner of what we like to call "secondary topics"—meaning, they aren't essential to salvation, the identity of Christ as God's Son, or the implicit nature of the Trinity. Secondary topics typically include different ideas on eschatology (end times), Arminian vs. Calvinist views, baptism, worship styles, spiritual gifts, frequency of communion in church, etc. (We won't list the color of the carpet in the sanctuary, though some might argue for that! Ha!)
Christians are all unique (and flawed) human beings, and they're understandably going to have differing views. Even when we look to the Bible and agree on it being the inerrant, inspired, infallible Word of God, we still risk interpreting it differently. The Bible even talks about how right now, we only see dimly, but one day in Heaven, we'll understand so much better.
It can be exhausting to think you understand something in Scripture, then hear an opposing view and think "oh, wait, that makes sense too." Or look at another Christian and think "they don't believe X, but look how close to the Lord they are. Maybe that means they've got it right instead of me!"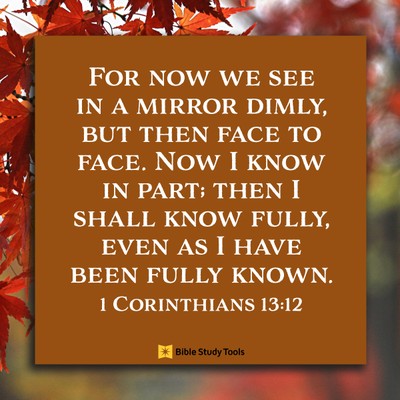 Personally, there was a season in my life where I didn't realize it, but I was slowly withdrawing from the daily disciplines of my spiritual journey. I had begun to stop reading the Word regularly or praying. It wasn't based in apathy so much as it was in fear. A wise mentor asked me a powerful question one day as I was discussing this shift with her. I had admitted that I was afraid to dive deep into figuring out a particular element of my faith because of all the controversy about it. People I love and respected, people whom I knew walked with the Lord had very opposing views on these topics, so it was confusing for me. It made me pull back. I heard myself say, "I just don't want to get it wrong."
This woman looked at me and very calmly asked, "What would happen if you did?"
I just stared at her, unable to provide an answer. She'd just revealed there was no true foundation to my fear. What would happen if I chose to believe a particular way on a secondary issue, and it turned out later I was wrong? Would I lose my salvation? No. Would I have grown away from the Lord? No. If anything, I'd be closer because I'd have been drawing near again!
You're not alone in these occasional bursts of doubt. But don't give up or allow the enemy camp to sway you away from digging into God's Word. And trust me—he's trying!
1 Peter 5:8 (ESV) Be sober-minded; be watchful. Your adversary the devil prowls around like a roaring lion, seeking someone to devour.
Refuse to listen to the lie that you'll never know the full truth, so why bother? If anything, let those anxieties over "getting it wrong" spur you deeper into the Word and into prayer. You're not going to figure everything out this side of Heaven, but you'll bear the fruit of a relationship with the Lord on the journey. Ultimately, when we're walking with the Lord, we can trust the Holy Spirit to steer us in the right direction on any of these hard topics.
---
Betsy St. Amant Haddox is the author of more than fifteen inspirational romance novels and novellas. She resides in north Louisiana with her hero of a hubby, two total-opposite young daughters, a vast collection of coffee mugs, and an impressive stash of Pickle chips. Betsy has a B.A. in Communications and a deep-rooted passion for seeing women restored in Christ. When she's not sweating it out at Camp Gladiator or trying to prove unicorns are real, Betsy can usually be found somewhere in the vicinity of a white-chocolate mocha—no whip. Look for her upcoming novel with Revell, Tacos for Two, in October. Visit her at http://www.betsystamant.com.
We want to experience God through the Bible… we really do!
But our good intentions fall flat when reading the Bible just doesn't seem to help us experience God in a real way. What should feel alive often feels confusing and boring and irrelevant. But it doesn't have to.
In the How to Study the Bible podcast, pastor and Bible teacher Nicole Unice brings life back to reading the Bible by walking listeners through her Alive Method of Bible study, helping us personally encounter God through his Word by giving us a practical, clear road map for understanding, interpreting and applying Scripture to our lives. Just click below to start listening now!