Redemption through His Blood
By Lynette Kittle
"In Him, we have redemption through His blood, the forgiveness of sins, in accordance with the riches of God's grace." – John 11:25
I love the picture Revelation 1:5 describes Jesus as "Him who loved us, and washed us from our sins in His own blood."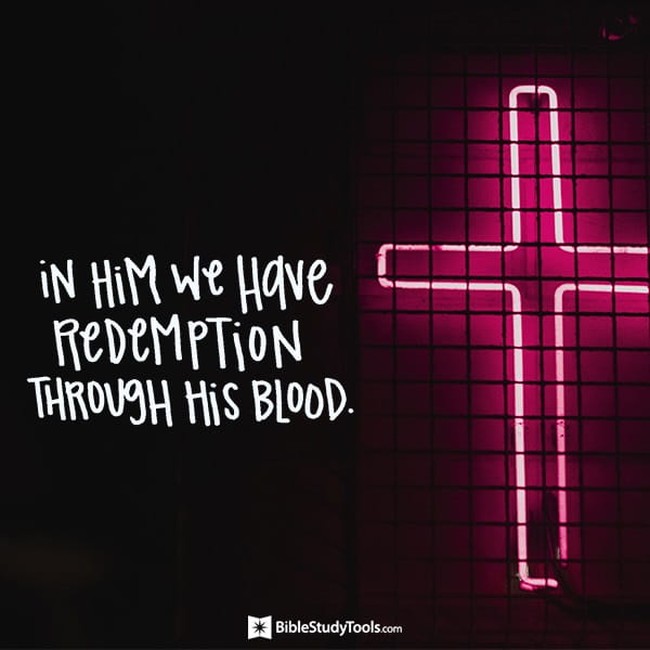 It reminds me of how as a young child, I came running from the garage to my parents, screaming, crying, and dripping in kerosene from an accidental playtime mishap.
Striking a chord with me, this Scripture is reminiscent of my coming to my parents covered in stain, unable to cleanse myself, and in need of washing. I remember being tenderly swept up into their arms despite my soiled condition and lovingly having the potent fuel washed off me.
My childhood memory helps me to understand my own inability to cleanse myself from sin and my need for Jesus to wash me in His own blood.
Why His Blood?
It all began when God created Adam and Eve sinless. Because there was no sin in the world, there was also no death, because death is the penalty for sin (Romans 6:23).
But it all changed in the Garden of Eden when Adam and Eve disobeyed God. As Romans 5:12 explains, "sin entered the world through one man, and death through sin, and in this way death came to all people, because all sinned."
After man's fall, there needed to be a living sacrifice as a payment for each man's sin because Leviticus 17:11 states, "it is the blood that makes atonement for one's life."
Satisfied through livestock, the required sacrifice was offered each year on the Day of Atonement by the high priest who offered sacrifices for his own sins, as well as for the sins of the people (Hebrews 5:3). But it couldn't be just any animal. It was required to be perfect, without defect (Leviticus 3:6).
Still, these continual sacrifices were only a temporary solution for sin's permanent consequences, and God had a plan to replace it once and for all through Jesus' sacrifice on the cross. Hebrews 10:10 explains how "we have been made holy through the sacrifice of the body of Jesus Christ once for all."
Why Jesus?
Jesus is the only "holy, blameless, pure, set apart from sinners" man whose sacrifice could meet the perfect and without blemish requirements needed to cover the punishment for sin (Hebrews 7:26). Unlike the earthly high priests, Jesus did not need to offer a sacrifice for His own sin because He had none. In offering Himself, His sacrifice covered once and for all the sins of the world (Hebrews 7:27).
Scripture explains how "God made Him who had no sin to be sin for us, so that in Him we might become the righteousness of God" (2 Corinthians 5:21).
God presented Christ as a sacrifice of atonement through the shedding of His blood (Romans 3:25), and through His blood, we receive forgiveness of sins.
---
Lynette Kittle is married with four daughters. She enjoys writing about faith, marriage, parenting, relationships, and life. Her writing has been published by Focus on the Family, Decision, Today's Christian Woman, kirkcameron.com, Ungrind.org, and more. She has an M.A. in Communication from Regent University and serves as associate producer for Soul Check TV.
Read through the Bible in Community This Year!
We're Tricia and Michelle, two friends inviting you to join us in reading through the Bible chronologically this year. Reading the Bible every day can be a challenge. We're here to sum up each day's passage and provide action steps ... in under 15 minutes. Grab a buddy and join us on The Daily Bible Podcast. Take the plunge, and let's read through the Bible together. We'll be cheering you on all the way!