The Tenth Commandment of Marriage:  Be Content with What You Have
Today we come to the final commandment for marriage. That commandment is based on the tenth commandment given to the nation of Israel in Exodus 20:17,
"You shall not covet your neighbor's house; you shall not covet your neighbor's wife, nor his male servant, nor his female servant, nor his ox, nor his donkey, nor anything that is your neighbor's."
This command is very direct.  Do not covet.  Don't be discontent with what you have.  Do not make what you don't have the focus of your life.  Accentuate what you do have and what God has blessed you and your spouse with.
You do this by celebrating your husband's or wife's strengths and giftings rather than thinking, "Oh, I wish he was this way," or, "I wish she had that."
If Janet compared me to her brothers, I would be in big trouble.  Her brothers are these "Mr. Fix-It" guys who can do anything mechanical.  If you are with me and our car breaks down on a desolate road, we are going to be in some serious trouble.  I can pray, but do not expect me to fix the car.
Her brothers are another story. One just built a house from the ground up; and if anything mechanical breaks down, he can fix it.
While I am not a Mr. Fix-It, there are other things I am good at.  I am so grateful that Janet wants to pull those out of me and give wings to those gifts.  And I want to do the same thing for her. 
You will always get into trouble if you think the grass is greener on the other side of the fence.  Just water your own grass.  Because on the other side of the fence, it's just Astroturf anyway.
---
Visit the Answers with Bayless Conley website for more ways to connect with God. 
Click here to watch this week's Answers with Bayless Conley broadcast at LightSource.com or listen on OnePlace.com.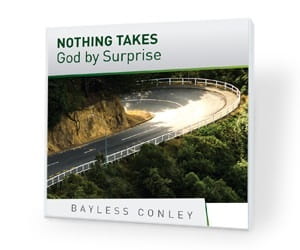 Have confidence in God's plan in your life!
God can work through all your struggles and blunders to bring about something good. And I want to show you how to have confidence in His plan for your life, by sending you my CD or DVD message, Nothing Takes God by Surprise. It's yours as my thank-you for your donation to help bring the hope of Jesus to a dying world.