No Regrets
In yesterday's devotional, we saw from Philippians 1:21-23 how it is far better to depart from this life and be with the Lord.  Today I want to follow up with this question:  Are you unable to abide thoughts of death?
If you answered "yes" to that question, chances are you are not ready to meet our Lord.  But you need to be ready because everyone here is going to die.  There are only two exceptions in all of history:  Enoch and Elijah, and it is not likely you are going to be the third exception.
Death visits both kings and commoners.  Its approach is sure.  The Bible says in Psalm 89:48,
What man can live and not see death?  Can he deliver his life from the power of the grave?  Selah.
That Hebrew word selah means to pause and calmly think about that, and that is the problem with some.  They never think on it.  They push every thought of their own mortality from their mind.  But how can you prepare for eternity if you never think about it?
When the time comes and we have finished our course for God, let us face death like men.  Let us look it in the eye.  Let us not rebel against the cutting of the cords that loose us from the mooring of these earthly shores; but, rather, unfurl the sails and take that blessed journey to a better country!
As we read yesterday, To live is Christ; and to die is gain.  To depart and be with Christ is far better.
Until then, squeeze every drop of life you can out of every single day.  Live with all of your heart and all of your strength for God, and leave no regrets behind.  Because life is a short day even at its longest.  And when its sun has gone down, it leaves us in eternity. 
---
Visit the Answers with Bayless Conley website for more ways to connect with God.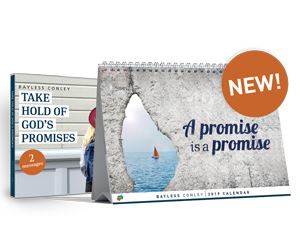 2019 Promises Calendar Bundle
Make God's promises for you a reality!
God's Word is packed with promises He's made to His people throughout the ages. If you find yourself in a time of need, it's time to take hold of a promise and reap the blessings He has in store for you. To do that, you need to understand His nature and your role in the process.
We want to help you experience the blessings of God's promises with the Promises resource bundle. This package includes Bayless Conley's 2019 Promises calendar, along with his 2-disc series messages (on CD or DVD).