A Picture of God's Lovingkindness
Yesterday we learned about God's merciful and unfailing love.  2 Samuel 9:3-7 provides us with a picture of that love,
Then the king said, "Is there not still someone of the house of Saul, to whom I may show the kindness of God?"  And Ziba said to the king, "There is still a son of Jonathan who is lame in his feet."  So the king said to him, "Where is he?"  And Ziba said to the king, "Indeed he is in the house of Machir the son of Ammiel, in Lo Debar."  Then King David sent and brought him out of the house of Machir the son of Ammiel, from Lo Debar.  Now when Mephibosheth the son of Jonathan, the son of Saul, had come to David, he fell on his face and prostrated himself.  Then David said, "Mephibosheth?"  And he answered, "Here is your servant!"  So David said to him, "Do not fear, for I will surely show you kindness for Jonathan your father's sake, and will restore to you all the land of Saul your grandfather; and you shall eat bread at my table continually."
David made a blood covenant with Jonathan to show Jonathan's offspring the lovingkindness of God.  After Jonathan died, Mephibosheth was the only offspring who remained, and he hid in the wilderness in fear of David.  But David found him and elevated him to be one of his own sons, set him at his table, and restored everything he lost.
This is such a beautiful picture of the covenant God made with His Son Jesus, a covenant sealed by the blood of Christ.  Because of what Jesus did, God shows us His lovingkindness, elevating us to the position of sons or daughters, and inviting us to break bread with Him at His own table.
That is the lovingkindness of God!
---
Visit the Answers with Bayless Conley website for more ways to connect with God.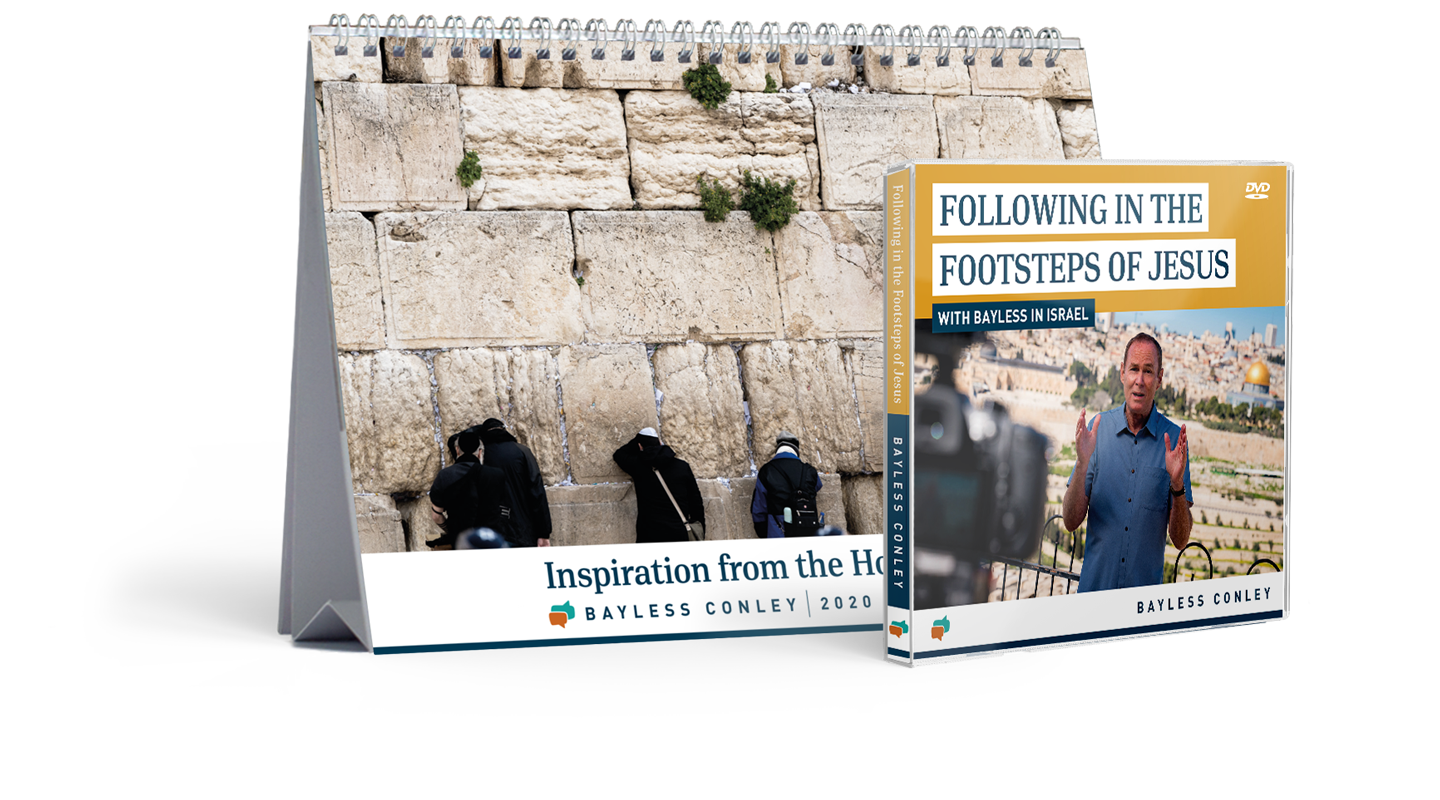 Be encouraged throughout the year ahead!
Request your copy of the new 2020 desk calendar, Inspiration from the Holy Land, as our thanks for your gift of any amount today. May the Scriptures in this scenic calendar be a source of inspiration for the year ahead!
And when you give $50 or more today, you will receive Bayless' full Israel Package, which includes
the scenic 2020 desk calendar, Inspiration from the Holy Land, and
a special 3-DVD series of messages filmed with Bayless in Israel, called Following in the Footsteps of Jesus
Follow Bayless as he shares insights from the Book of Matthew while taking you on a visual journey to follow in Jesus' footsteps—all to strengthen your faith in Him.
We pray these resources remind you of the eternal truths in Scripture and the hope we have in every season—and thank you for giving generously today to connect more people to our living Jesus!