Key #2 to Effective Prayer - Being Connected
By Janet Conley
Yesterday we found that the first key to effective prayer is the need to be specific when we pray.  Today, I want to show you the second key:  The need to have a close relationship with God.
"I am the vine, you are the branches.  He who abides in Me, and I in him, bears much fruit; for without Me you can do nothing."
God wants every part of our life to be connected to Him.  And He tells us that as that happens, as we have our lives connected with Him, we bear much fruit.  A few verses later Jesus directly connected that fruit to prayer.
In John 15:16, Jesus goes on to say,
"You did not choose Me, but I chose you and appointed you that you should go and bear fruit and that your fruit should remain, that whatever you ask the Father in My name He may give you."
If we are connected to God and we abide in Him, Jesus says we will bear much fruit—prayer fruit.  Think about a fruit tree for a moment.  The leaves come out because the branches are attached to the tree.  In the spring the branch will blossom, and from those blossoms comes the fruit.
But if something happens and the branch is not solidly connected to the tree, it will probably not bear any fruit at all.  There may be a few leaves, but the blossoms won't come and there won't be any fruit.  The blossoms and healthy fruit will only come if the branch is fully connected.
God wants us connected to Him in every part of our lives.  When that happens, our prayers will be in line with His desires, and we can be confident that He will answer.
---
Visit the Answers with Bayless Conley website for more ways to connect with God.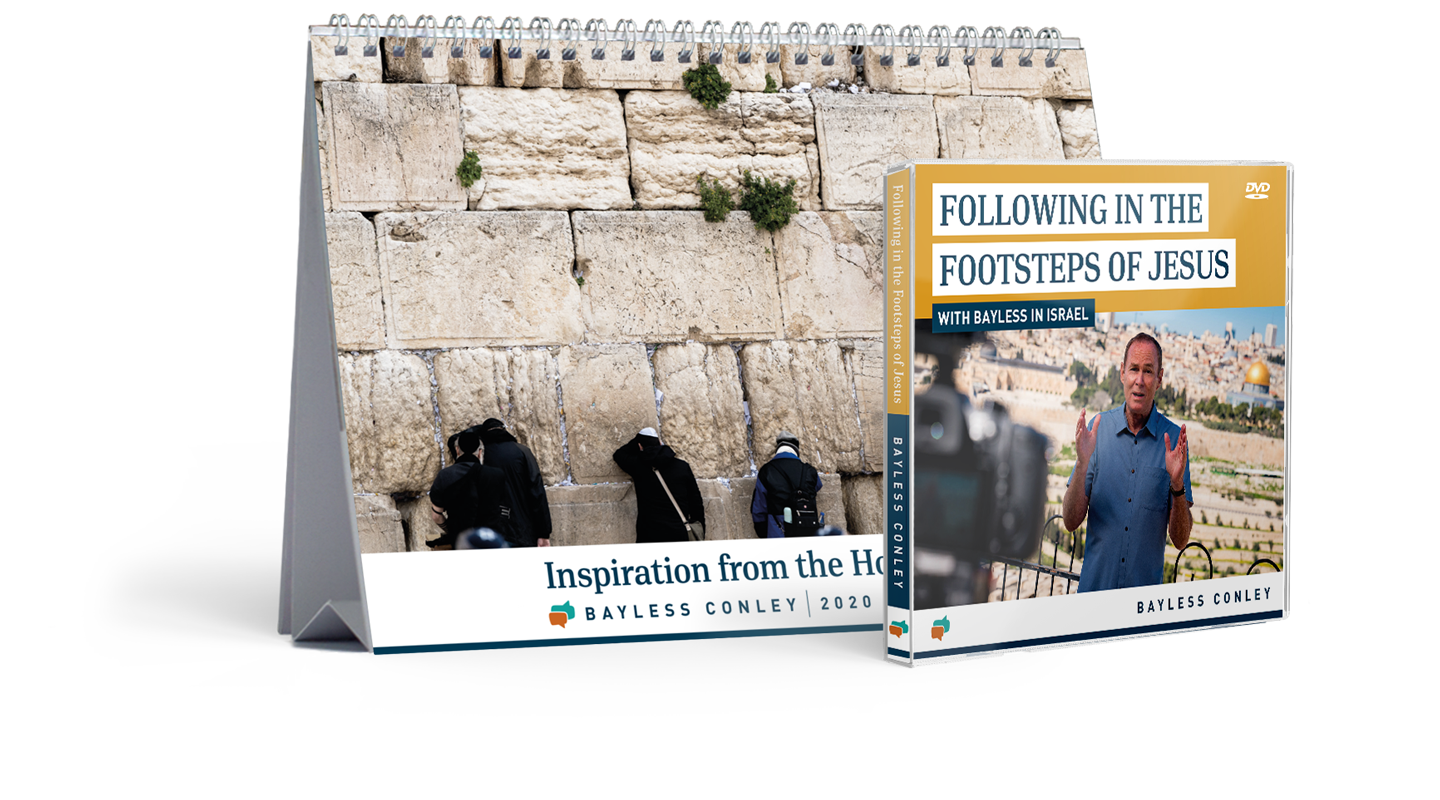 Be encouraged throughout the year ahead!
Request your copy of the new 2020 desk calendar, Inspiration from the Holy Land, as our thanks for your gift of any amount today. May the Scriptures in this scenic calendar be a source of inspiration for the year ahead!
And when you give $50 or more today, you will receive Bayless' full Israel Package, which includes
the scenic 2020 desk calendar, Inspiration from the Holy Land, and
a special 3-DVD series of messages filmed with Bayless in Israel, called Following in the Footsteps of Jesus
Follow Bayless as he shares insights from the Book of Matthew while taking you on a visual journey to follow in Jesus' footsteps—all to strengthen your faith in Him.
We pray these resources remind you of the eternal truths in Scripture and the hope we have in every season—and thank you for giving generously today to connect more people to our living Jesus!