Six Times We Should Seek God (Part Two)
In yesterday's devotional, we looked at three times we should seek God. Today we will look at three more:
4.  When we are in trouble.
In the day of my trouble I sought the Lord; my hand was stretched       out in the night without ceasing; my soul refused to be comforted (Psalm 77:2).
In Hosea 5:15 the Lord says, "…in their affliction they will earnestly seek me."
I don't like to admit it, but the truth is that at times I have sought God more earnestly when I have been in trouble.  Problems have a way of getting us on our knees.  If you are in trouble today - seek Him!
5.  When all is well.
Seek the LORD and His strength; seek His face evermore! (Psalm 105:4).
If you will carefully read the preceding verses of this psalm, you will find that the context is one of blessing and not trouble.
This may be the most important time of all to seek Him.  May we never become smug and think that we do not need God when all is well.
6.  Continually.
Seek the LORD and His strength; seek His face evermore! (1 Chronicles 16:11).
The word evermore in this verse means continually or at all times.
When you have sinned, when you are dry, when you are afraid, when you are in trouble, when all is well, and in any other situation - you need to seek God!
---
Visit the Answers with Bayless Conley website for more ways to connect with God. 
Click here to watch this week's Answers with Bayless Conley broadcast at LightSource.com or listen on OnePlace.com.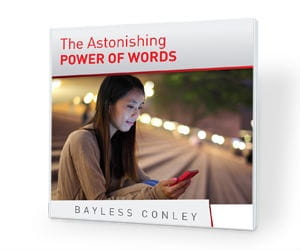 Discover the radical difference the right words can make!
Your words have power. That's why we want to help you start speaking the right words over your life, by sending you Bayless' CD message, The Astonishing Power of Words. This resource is our thank-you for your gift to help bring a living Jesus to more people all over the world.