Madmen
by Berni Dymet
Luke 12:15 And he said to them, 'Take care! Be on your guard against all kinds of greed; for one's life does not consist in the abundance of possessions.'
We men are funny animals. We have this thing hardwired in our DNA - we want to be the providers and protectors of our families. And that's a good thing.  It's great actually.
But then in the madness we all rush around in - like madmen - we become so engrossed in the "providing thing". It gets a life of its own. Its like -well, we become madmen. It's like we snap inside and all of a sudden working is all that matters. Making it is all that matters. So many men are on that treadmill.
And there are so many of us who end up missing out on the wonder of bringing up our children and the intimacy of quiet times with our wives…and with God. We end up trading the diamonds we've been given, for stones. Doesn't that strike you as completely nuts?
Maybe, maybe this is striking a little close to home. So let me give you this gentle word of encouragement:
What's the matter with you? Are you nuts?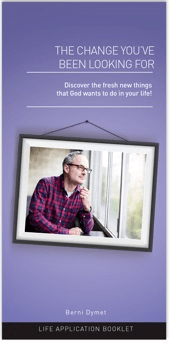 Your FREE eBooklet - "The Change You've Been Looking For"
So many people yearn for a better life, which is why "self-improvement" is a multi-billion dollar industry. But the truth is, it doesn't work, because the big changes, the truly important changes, are impossible to achieve on your own. That's why Jesus came. So if you want to lay hold of the "super-abundant" life that He promised (John 10:10) download this free eBooklet, because that's what it's all about. The change you've been looking for!