Godly Self Confidence
Berni Dymet 
 
Psalm 139:13 For you created my inmost being; you knit me together in my mother's womb.
I remember the first time I heard about the idea of godly self confidence. And I remember thinking - isn't that a complete contradiction in terms. To be godly, you have to die to self, take up your cross, that sort of thing. And yet self confidence ends up being about pride and arrogance. The two just don't go together.
And that is absolutely true. Too many people have become a cropper, by relying on just themselves. Me included.
But there's a flip side. When we accept Jesus Christ as our Lord and Savior that brings His Spirit into us. That brings new life - and all those gifts and abilities that God planted there in our DNA, they come to life in a whole new way too.
Think about it - God formed us in our mother's womb. And He also planned all the days of our lives before any of them yet existed. Who we are, and what He's called us to do are a perfect fit.
The question is, are we living out the life that He's called us to?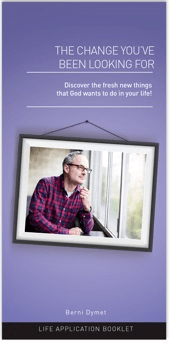 Your FREE eBooklet - "The Change You've Been Looking For"
So many people yearn for a better life, which is why "self-improvement" is a multi-billion dollar industry. But the truth is, it doesn't work, because the big changes, the truly important changes, are impossible to achieve on your own. That's why Jesus came. So if you want to lay hold of the "super-abundant" life that He promised (John 10:10) download this free eBooklet, because that's what it's all about. The change you've been looking for!