Staying on Course
by Berni Dymet
Luke 4:42-44 At daybreak he departed and went into a deserted place. And the crowds were looking for him; and when they reached him, they wanted to prevent him from leaving them. But he said to them, "I must proclaim the good news of the kingdom of God to the other cities also; for I was sent for this purpose."  So he continued proclaiming the message in the synagogues of Judea.
Different people had different reactions to Jesus here on earth. Some wanted to kill Him. Others wanted Him to stay, to settle down and to build a mega-church in their town. It would've been logical wouldn't it? If I'd written the plot for His life here on earth - the mega-church, lived happily ever after scenario may well have been the way it ended.
Fortunately, I didn't get to write His story. Nor did you. No - when people tried to hang on to Him, to get Him to stay, to become the head of the nation, to throw the occupying Romans out - He had none of it.
He knew His destiny. It wasn't an onward and upward and bigger and better and brighter future kind of destiny. It was a destiny of dying alone - brutally alone - on a cross.
Jesus stayed focused. Even though the journey involved that ultimate sacrifice - a brutal, ugly, painful, horrific death, before glory came. 
So, let me ask you - what about your journey? Where are you headed?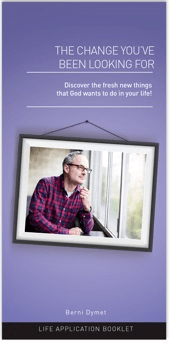 Your FREE eBooklet - "The Change You've Been Looking For"
So many people yearn for a better life, which is why "self-improvement" is a multi-billion dollar industry. But the truth is, it doesn't work, because the big changes, the truly important changes, are impossible to achieve on your own. That's why Jesus came. So if you want to lay hold of the "super-abundant" life that He promised (John 10:10) download this free eBooklet, because that's what it's all about. The change you've been looking for!