Knock, Knock
by Berni Dymet
Rev. 3:20 Listen! I am standing at the door, knocking; if you hear my voice and open the door, I will come in to you and eat with you, and you with me.
Knock, knock. Who's there?
We all played that games as kids. But did you know there's a knock, knock in the Bible. Yeah - but this one, this one's no joke. In fact, it's one of the most profound and meaningful - knock, knock's you'll ever encounter. It's Jesus saying.
Listen, I'm standing at the door knocking. If you hear my voice and open the door, I will come in to you and eat with you and you with me.
We have all sorts of misconceptions about who this God really is. Who this Jesus really is? And here, in this simple, knock, knock - we discover exactly who He is. Not some distant God - a million miles away in the air-conditioned comfort of heaven. But a God who took on skin and bones like you and me - only to be misunderstood and nailed - brutally nailed to a cross.
And this is the God - who's knocking. The one who wants to sit down over a meal and chew the fat with you and with me.
Knock, knock. Go figure.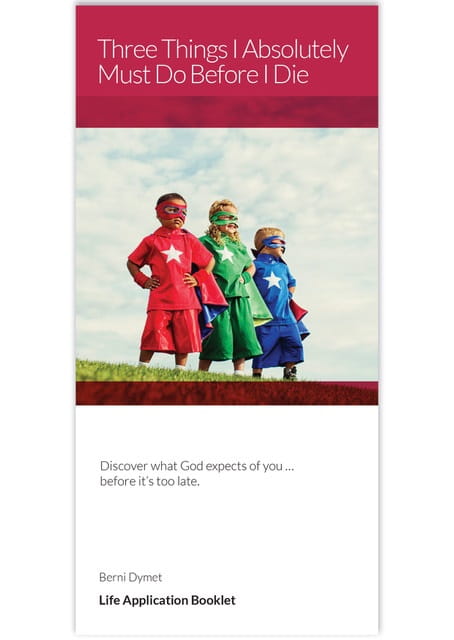 YOUR FREE BOOKLET – THREE THINGS I ABSOLUTELY MUST DO BEFORE I DIE
Here's a vital question for you to consider: If you died tonight, would you be ready for eternity? Now, many people know that it's all about having a simple faith in Jesus Christ. Nothing more, nothing less. But … do you have the sort of faith that Jesus talked about? To help you answer that question for sure, that's what our latest Life Application Booklet is all about: Three Things I Absolutely Must Do Before I Die. We would absolutely love to send you your very own FREE copy to help you make sure that you have the right answer, to the most important question of all.