No Room for God
by Berni Dymet  
Psa. 10:4 In his pride the wicked man does not seek him; in all his thoughts there is no room for God.
You know the thing with pride is that we only have time and space to think of ourselves. Now I'm a bit of an expert when it comes to pride, because I spent much of the first thirty-six years of my life - absolutely full of it!
And the only thing I ever thought much about - was … me. What I wanted. What I was going to do. How I felt.  Numero uno!  You know the story. 
And back then - whilst I wouldn't quite have put it this way - I pretty much didn't have any room for how other people felt, what they needed and wanted; what was going on in there life, none of that. 
And there was something else I didn't have any room for - or some one else I should say. That someone else … was God: the God who created the universe, the God who created me and the God who sent His Son to die for me. 
No - I just didn't have room for Him.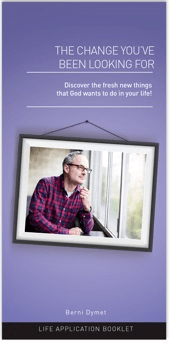 Your FREE eBooklet - "The Change You've Been Looking For"
So many people yearn for a better life, which is why "self-improvement" is a multi-billion dollar industry. But the truth is, it doesn't work, because the big changes, the truly important changes, are impossible to achieve on your own. That's why Jesus came. So if you want to lay hold of the "super-abundant" life that He promised (John 10:10) download this free eBooklet, because that's what it's all about. The change you've been looking for!