The Credit Card Bill
by Berni Dymet
Romans 14:12 So then, each of us will be accountable to God.
Credit cards are an amazing convenience. You wander through the shopping mall and see something that takes your fancy - and you can buy it even if you don't have the money in your pocket, because you have a credit card. So you do. And another thing. And another thing. Living as though there's no tomorrow.
But eventually the day of reckoning comes when the bill arrives in the mail. There's a price to pay…one day, there is.
I remember when someone first told me that one day, I'd stand before God and have to give an account.  We live our lives as though there's no tomorrow. But one day, there'll be a day of reckoning. And when I stand before God this is what I'm going to say:
"Lord God - um, I know I blew it so often. But on the 15th of October 1995, I gave my life to Jesus and since then, I've put my faith in Him because I believe that He paid the price for me."
That's what I'm going to say. How about you?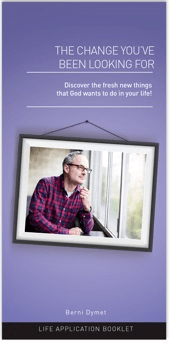 Your FREE eBooklet - "The Change You've Been Looking For"
So many people yearn for a better life, which is why "self-improvement" is a multi-billion dollar industry. But the truth is, it doesn't work, because the big changes, the truly important changes, are impossible to achieve on your own. That's why Jesus came. So if you want to lay hold of the "super-abundant" life that He promised (John 10:10) download this free eBooklet, because that's what it's all about. The change you've been looking for!