The Shirt
by Berni Dymet
Eph. 3:17-19 I pray that you may have the power to comprehend, with all the saints, what is the breadth and length and height and depth, and to know the love of Christ that surpasses knowledge, so that you may be filled with all the fullness of God.
I was in a dress shop the other day looking at clothes with my wife (which is something I try not to do too often). She pulled a blouse out from the specials rack - I saw it from across the store, it was stunning. 
So I went over and had another look.
Anyhow, a few minutes later the shop attendant says to me - "You have good taste sir.  I like that shirt."  I looked down at the pretty casual, pretty ordinary denim style shirt I was wearing and said to her - "Oh - thank you."
 "No, not that one," She bounced back. "The one you were looking at with your wife". Ehhhh.
Embarrassing moment - I went bright red. I'd completely missed the point. But then, it's so easy to misunderstand even the simplest thing isn't it?
I spent a lifetime misunderstanding the love of God. Thirty six years it took me to figure it out; no - not a grumpy, vindictive old man; but a love so wondrous, so…simply stunning.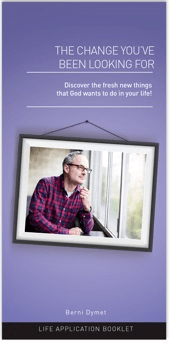 Your FREE eBooklet - "The Change You've Been Looking For"
So many people yearn for a better life, which is why "self-improvement" is a multi-billion dollar industry. But the truth is, it doesn't work, because the big changes, the truly important changes, are impossible to achieve on your own. That's why Jesus came. So if you want to lay hold of the "super-abundant" life that He promised (John 10:10) download this free eBooklet, because that's what it's all about. The change you've been looking for!