Too Fast
by Berni Dymet
Psalm 46:10 Be still, and know that I am God!
I was having lunch the other day with an old friend and he asked me "Berni, why is it that you eat so quickly?"
Well, it all happened when I was training to be an officer in the Australian army at a place called the Royal Military College Duntroon.
Now over those four years they really put us through the wringer - there was so much pressure. I guess the idea was to see if we could cope. And one of the things that we all learned to do was this. We ate quickly, that way we could fit everything in that we had to do that day.
I guess old habits die hard. And you know it's one of the things that so many of us do in life - race through everything just to fit it all in.
But let me ask you something. How much of it is going to matter at the end of the day? I mean, really?
See, this friend of mine has a gentle, quiet, godly grace about him. Somehow you can't be like that when you're racing round like an idiot. 
You know, you just can't.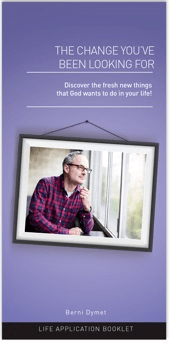 Your FREE eBooklet - "The Change You've Been Looking For"
So many people yearn for a better life, which is why "self-improvement" is a multi-billion dollar industry. But the truth is, it doesn't work, because the big changes, the truly important changes, are impossible to achieve on your own. That's why Jesus came. So if you want to lay hold of the "super-abundant" life that He promised (John 10:10) download this free eBooklet, because that's what it's all about. The change you've been looking for!