It's a Cat's Life
by Berni Dymet
Neh. 9:17 But you are a God ready to forgive, gracious and merciful, slow to anger and abounding in steadfast love, and you did not forsake them.
You may have heard me talk about my cat once or twice. Her name is Dog. Truly it is. But she's very definitely a cat. Always looking after number one. You know how cats are.
Anyhow, I was thinking the other day how much like cats, we've become. Don't you think? It seems we live in a world where we learn to look after number one - me - as priorities 1, 2 and 3 in our lives. And everybody else and everything else comes after that.
Makes for a pretty ugly world actually as you look around.
And every now and then, you run into someone who's just not like that; someone who's gracious and gentle and giving and forgiving. And they stand out don't they.
As I read through the things that Jesus said and look at the things He did - you know what I see. I see a man who drew the sharpest of lines between those two. He turned the world upside, with his life.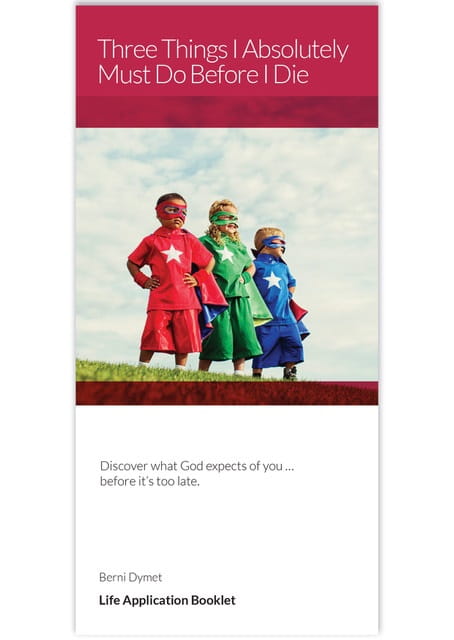 YOUR FREE BOOKLET – THREE THINGS I ABSOLUTELY MUST DO BEFORE I DIE
Here's a vital question for you to consider: If you died tonight, would you be ready for eternity? Now, many people know that it's all about having a simple faith in Jesus Christ. Nothing more, nothing less. But … do you have the sort of faith that Jesus talked about? To help you answer that question for sure, that's what our latest Life Application Booklet is all about: Three Things I Absolutely Must Do Before I Die. We would absolutely love to send you your very own FREE copy to help you make sure that you have the right answer, to the most important question of all.