Lukewarm
by Berni Dymet
Rev. 3:16 So, because you are lukewarm, and neither cold nor hot, I am about to spit you out of my mouth.
Have you ever had a glass of lukewarm water? It's disgusting. You just want to spit it out. But my hunch is - the devil loves luke warm Christians. Comfortable, suburban, pew sitting Christians whose lives don't count for Christ.
Christians who are just plain lukewarm.
No - I'm pretty certain now, the devil loves those people. They're no threat. They're lives will never stand for anything, amount to anything - well, nothing with eternal significance.
Just lukewarm.
I'm not into guilt trips. But I do believe that every now and then, Jesus means to hold up a mirror to our faces.
Let me be blunt. Jesus is so passionate about you and me - He let them crucify Him. And here and now -He's still passionate about us - you and me. Perhaps that's why we're together right now.
He has a plan - for your life and mine to stand for something. To count for something eternal. But it comes with a warning on the packet - "It'll cost you."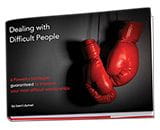 Get a Free eBook from Berni Dymet, Dealing with Difficult People. This timely and relevant eBook contains 6 powerful principles guaranteed to improve your most difficult relationships. And you can download it FREE, right now.