Lost for Words 
by Berni Dymet
Rom. 8:26 Likewise the Spirit helps us in our weakness; for we do not know how to pray as we ought, but that very Spirit intercedes with sighs too deep for words.
Sometimes in life, it hurts so much inside, that we're lost for words. Even with God. Hi. I'm Berni Dymet.
Ever been in that place? You ache so much inside that you kind of sit there and you don't even have the strength to utter a word of prayer. You want to but you just can't. All that there is, is this deep groaning inside.
Two thousand years ago, the Apostle Paul wrote almost half the books of the New Testament - some of them when he was on death row. My hunch is he knew what that was like. And so he wrote this:
The Holy Spirit helps us in our weakness. When we don't know what we ought to pray for, the Spirit himself intercedes for us with groans that words can't express.
As we just lift the eyes of our souls Christ-ward, it's the Spirit Himself interceding for us - with groans too deep to express. That pain that defies words, is prayer.
God is so awesome isn't He?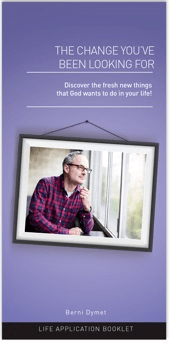 Your FREE eBooklet - "The Change You've Been Looking For"
So many people yearn for a better life, which is why "self-improvement" is a multi-billion dollar industry. But the truth is, it doesn't work, because the big changes, the truly important changes, are impossible to achieve on your own. That's why Jesus came. So if you want to lay hold of the "super-abundant" life that He promised (John 10:10) download this free eBooklet, because that's what it's all about. The change you've been looking for!