Flying Under the Radar
by Berni Dymet
Matt. 6:1 "Beware of practicing your piety before others in order to be seen by them; for then you have no reward from your Father in heaven."
We live in a world that worships celebrities. You know, we pump them up larger than life. And then somehow we think we have to be recognized and known and admired - just like them. We've become recognition junkies.
But some of the people I admire the most are not like that. My first Pastor - Phil - you'll probably never meet him. But he's given his life to helping people like me.
A friend of mine Dave in the US - who's dedicated his life to reaching people across the world with the love of Jesus. But you don't even know what he looks like.
People like these, they fly under the radar - nobody knows their name.
Jesus was like that. He didn't go to get His credentials stamped by the religious leaders of the day. Instead He criticized them for their hypocrisy and hung around with ordinary folk.
You know, my hunch is the sooner that we figure out it's OK to fly under the radar, the sooner we'll have some peace about who we are.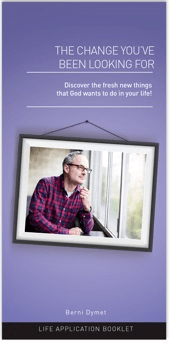 Your FREE eBooklet - "The Change You've Been Looking For"
So many people yearn for a better life, which is why "self-improvement" is a multi-billion dollar industry. But the truth is, it doesn't work, because the big changes, the truly important changes, are impossible to achieve on your own. That's why Jesus came. So if you want to lay hold of the "super-abundant" life that He promised (John 10:10) download this free eBooklet, because that's what it's all about. The change you've been looking for!