The Heart Grows Fonder
by Berni Dymet
John 17:20-21 I ask not only on behalf of these, but also on behalf of those who will believe in me through their word, that they may all be one. As you, Father, are in me and I am in you, may they also be in us, so that the world may believe that you have sent me.
I recently spent a couple of weeks away for ministry and I so missed my wife Jacqui. I always do. Those times away just make me realize how much I love her.
But you know, I think it's the opposite for me when it comes to God. I've been through times when I was so busy, that it was hard to find time to spend with Him.
And the less I prayed, the less I felt like praying. 
Jesus has a passion for being close to us. Just before He was crucified, He prayed "Father, you know how you and I are one, well that's how I want it to be between Me and those whom you've given Me."
When we drift away from Him, from that intimacy, it feels like, well, He'd never want us back.
But nothing, nothing could be further from the truth. Can I encourage you just to spend a regular time with Him every day. Because when we draw close to Him, He always, always draws close to us.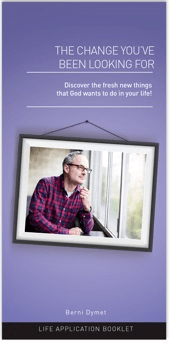 Your FREE eBooklet - "The Change You've Been Looking For"
So many people yearn for a better life, which is why "self-improvement" is a multi-billion dollar industry. But the truth is, it doesn't work, because the big changes, the truly important changes, are impossible to achieve on your own. That's why Jesus came. So if you want to lay hold of the "super-abundant" life that He promised (John 10:10) download this free eBooklet, because that's what it's all about. The change you've been looking for!