Charity Begins at Home

by Berni Dymet
1 John 3:17-18 How does God's love abide in anyone who has the world's goods and sees a brother or sister in need and yet refuses help? Little children, let us love, not in word or speech, but in truth and action.
I remember a few years back preaching at my church. Had an alter call at the end - a man came up for prayer. He couldn't make his car payment and they were going to repossess his car.
So I prayed for him - but something ... Great, pray for him and send him on his way. The amount of money he needed was so small. Back then I was working in the IT industry - I had plenty to spare.
So I called him back and wrote him a check. Now - I don't normally talk about these things and the last thing I want you to think is that I'm some great guy. This giving didn't flow naturally - it took a real work of God to convict me.
Thing is - what I learned later is that not only was he blessed; it was such an incredible blessing for me. That's what blew me away. I'd written a check, he was blessed with a car payment, but God blessed me so much. I learned a powerful lesson that day. It's more blessed to give than to receive.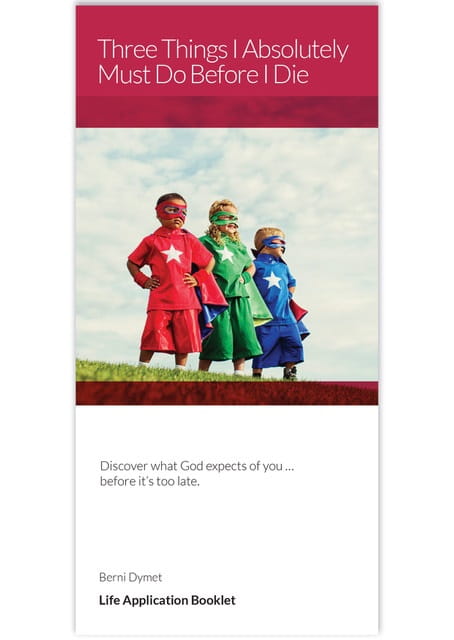 YOUR FREE BOOKLET – THREE THINGS I ABSOLUTELY MUST DO BEFORE I DIE
Here's a vital question for you to consider: If you died tonight, would you be ready for eternity? Now, many people know that it's all about having a simple faith in Jesus Christ. Nothing more, nothing less. But … do you have the sort of faith that Jesus talked about? To help you answer that question for sure, that's what our latest Life Application Booklet is all about: Three Things I Absolutely Must Do Before I Die. We would absolutely love to send you your very own FREE copy to help you make sure that you have the right answer, to the most important question of all.