March 30
Going On in Fruit-Bearing
John 15:16—"You did not choose Me but I chose you, and appointed you that you would go and bear fruit, and that your fruit would remain, so that whatever you ask of the Father in My name He may give to you.
If you're married to Jesus, don't sleep with the "flesh," because you may bear its fruit—immorality, impurity, sensuality, idolatry, sorcery, enmities, strife, jealousy, outbursts of anger, disputes, dissensions, factions, envy, drunkenness, and carousing (Galatians 5:19). God promises that intimacy with Him results in the fruit of the Spirit—love, joy, peace, patience, kindness, goodness, faithfulness, gentleness, and self-control (Galatians 5:22-23). He made you and married you to bear His fruit, not that of the illicit lover, the "flesh."
Click here to sign up for your free Winning Walk newsletter!
OUR THANK YOU TO YOU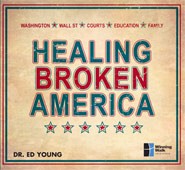 Healing Broken America
CD Series