April 3
Going On As God's Child
John 1:12-13—But as many as received Him, to them He gave the right to become children of God, even to those who believe in His name, who were born, not of blood nor of the will of the flesh nor of the will of man, but of God.
"I'm afraid I'm jelling into the kind of person I don't want to be," the fellow told me. There's a big difference between "jelling" and "forming." Paul writes his spiritual "children" at Galatia that he labors so that Christ might be "formed in you" (Galatians 4:19). God's covenant children are "predestined to become conformed to the image" of Christ. Apart from Him you may "jell" into something you don't want to be, but God's promise is to form you into Christlikeness.
Click here to sign up for your free Winning Walk newsletter!
OUR THANK YOU TO YOU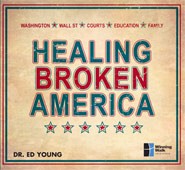 Healing Broken America
CD Series