April 2
Going On Despite Disappointment
Romans 9:33—…just as it is written, "BEHOLD, I LAY IN ZION A STONE OF STUMBLING AND A ROCK OF OFFENSE, AND HE WHO BELIEVES IN HIM WILL NOT BE DISAPPOINTED."
In nature gravity, from earth's perspective, pulls things downward, and entropy yanks them apart. The same is true spiritually. We all deal with decline and deterioration—in our bodies, relationships, institutions and even our aspirations. There is only one place where we will never be disappointed, the place of complete trust in God. Lifestyles, heroes, treasures and ambitions will ultimately prove to be let-downs, as they are caught in the sweep of "gravity" and "entropy." But God never fails. Never.
Click here to sign up for your free Winning Walk newsletter!
OUR THANK YOU TO YOU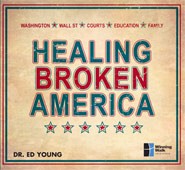 Healing Broken America
CD Series