April 1
Going On in Forgiveness
Acts 10:43—"Of Him all the prophets bear witness that through His name everyone who believes in Him receives forgiveness of sins."
I heard of a psychotherapist who commented that if all the patients in his institution could understand they were forgiven half the beds would be empty. Another, Karl Menninger, argued that without the concept of personal sin there is no awareness of personal forgiveness, and no real solution to guilt. The promise of forgiveness is two-fold. We are to receive God's forgiveness personally, then extend our forgiveness to those who've wronged us. That's when we truly receive the promise of the forgiveness of sins.
Click here to sign up for your free Winning Walk newsletter!
OUR THANK YOU TO YOU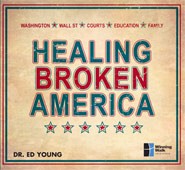 Healing Broken America
CD Series