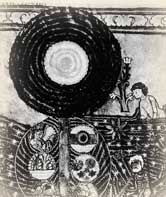 Contemporaries called her "Sybil of the Rhine." By any measure she was an extraordinary woman, one of the few who transcended the limitations on her sex during the Middle Ages to alter the events of her own time and imprint her personality on the future.
At five years of age, Hildegard of Bingen began to see visions; at eight, she joined her aunt Jutta, a recluse (one who led a solitary life for religious purposes). When fourteen she became a nun. Much of her life she was abbess of a Benedictine convent.
Somewhere along the way she acquired an education. But not until she was 42 did she begin to write the books which made her famous. Her output was prodigious and varied. She compiled an encyclopedia of natural science and clinical medicine. Her medical works included exorcisms along with much medieval lore. She wrote the first known morality play and a song cycle from which this quote is taken:
It is very hard to resist what tastes of the apple.
Set us upright Savior, Christ.... O most beautiful form!
O most sweet savor of desirable delight!
We ever sigh after you in fearful exile,
when will we see you and dwell with you?
Hildegard's hundreds of letters of advice and rebuke went out to kings and commoners alike. She wrote biographies of two saints. This output, coming from the pen of a woman, was extraordinary in an age when women seldom learned to read. She was considered a prophetess. St. Bernard of Clairvaux and popes endorsed her visions. All listened to her.
Her book of visions, Scivias, took her ten years to complete. She incorporated 26 drawings of things she had seen in her strange waking visions. Modern medicine suggests that these shimmering lines of light were actually the auras associated with migraines. Her own account suggests more. "...when I was forty-two years and seven months old, heaven was opened and a fiery light of exceeding brilliance came and permeated my whole brain, and inflamed my whole heart and my whole breast, not like a burning but a warming flame, as the sun warms anything its rays touch." Immediately she understood the meaning of the scriptures.
At the age of 60, Hildegard began to make preaching tours. The theme of her sermons was that the church was corrupt and needed cleansing. She scathed easygoing, fat clergymen and those who were "lukewarm and sluggish" in serving God's justice, or negligent in expounding the depths of scripture.
Hildegard died at age 82 on this day, September 17, 1179. Although largely forgotten for many generations, awareness of her life surged in the mid 1990s with television programs, books and music releases devoted to her. And not without cause, for she was one of the most talented and original women of any era.
Bibliography:
The Baptists. Christian History No. 6.
Deen, Edith. Great Women of the Christian Faith. New York: Harper, 1956.
Durant, Will. The Age of Faith. New York: Simon and Schuster, 1950.
Flanagan, Sabina. Hildegarde of Bingen; a Visionary Life. London ; New York: Routledge, c1990.
Fuller, Thomas. "The Life of Hildegardis." The Holy State and the Profane State Volume II. New York: Columbia University Press, 1938; p. 44ff.
Hildegard of Bingen. The Letters of Hildegard of Bingen. Translated by Joseph L. Baird and Radd K. Ehrman. New York: Oxford University Press, 1994.
"Life and Works of Hildegard von Bingen (1098 - 1179)." (www.fordham.edu/halsall/med/hildegarde.html).
Mershman, Francis. "St. Hildegard." The Catholic Encyclopedia. New York: Robert Appleton, 1914.
Various encyclopedia and internet articles and discographies.
Last updated April, 2007.
---
Originally published April 28, 2010.