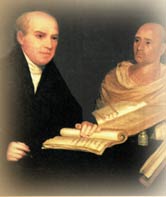 The central institution of community life among African-Americans has been the church. The black church developed a culture distinct from both white Americans and blacks a continent away in Africa. As part of the explosion of missionary work in the nineteenth century, many Afro-Americans sought a witness to the native Africans. Frequently they quoted David in Psalm 68:31, "Ethiopia shall soon stretch out her hands unto God."
Paul Cuffe was the first African-American to lead such a missionary effort. A Quaker and a wealthy Massachusetts sea captain, Cuffe organized the Friendly Society of Sierra Leone and in 1815 resettled 38 blacks in Sierra Leone to help evangelize Africa. About the same time, Lott Cary and William Crane in Virginia established the Richmond African Baptist Missionary Society. When a group of white Christians established the American Colonization Society in 1816, Lott Cary was the first to volunteer as a missionary.
Born a slave in 1780, Lott had worked in Richmond tobacco warehouses. When he heard a sermon on John 3:16, he became converted. He learned to read and write, joined the biracial First Baptist Church, and became a lay preacher. In 1813 he bought his freedom and was licensed to preach. A combination of mission societies and the American Colonization Society sent Lott to Sierra Leone in 1821. In 1822, some colonists moved from Sierra Leone to establish Liberia, and Cary established the First Baptist Church in Monrovia. He gave administrative leadership to the colony, became a lay medical practitioner, and established churches and schools among the local inhabitants. He died in 1828 in an explosion during fighting among local tribes.
The 1870's saw a renewed interest in African missions among American blacks. The end of Reconstruction and the disenchantment of many blacks with their position in the United States also encouraged a revival of a back-to-Africa movement in the late 1870's. Black Christians, for example, organized the Liberian Exodus Joint Stock Steamship Company, and in April, 1878, the ship Azor left for Liberia with 200 emigrants "to take back the culture, education, and religion acquired here [in America] ... until the blaze of the Gospel truth should glitter over the whole broad African continent."
Some African-American Christians of the day believed that African-Americans were an elect group who had been exposed to Christian civilization and could now take that civilization back to Africa. Some whites pondered whether God caused slavery to be ended and Africa opened so African-Americans could bring Africa to Christ.
African-American denominations such as the African Methodist Episcopal Church, the National Baptist Convention, and the African Methodist Episcopal Zion Church, all established mission boards which sponsored mission programs in Africa. By this means African-Americans continue to this day to bring the light of the Gospel of Christ o their ancestral peoples.
DISTANT DATELINE: Freedom from Religion or Freedom for Religion?
PHILADELPHIA DECEMBER 15, 1791. Both houses of Congress today easily mustered the necessary two-thirds vote to approve amendments to the Constitution. The amendments are a series of guaranteed individual liberties. They include freedom of speech and religion, the right to a jury trial, freedom from unreasonable searches, and the right of a person not to testify against himself in a criminal proceeding. Senator James Madison, one of the sponsors of the proposed amendments, told reporters today that many of the delegates to the convention of 1787 had refused to sign the Constitution unless it included a list of such basic human rights. To persuade them to sign, he and other delegates had solemnly promised to amend the Constitution by adding a Bill of Rights at the very first session of the new Congress. "All we have done today," he said, "is to carry out a promise we made to the delegates three years ago."
The amendment protecting freedom of religion provides, "Congress shall make no law respecting an establishment of religion, or prohibiting the free exercise thereof...." Fisher Ames, who wrote the draft for this amendment, explained that its intent is to prevent Congress from adopting a particular sect or denomination as the official state religion. Other Congressmen pointed out that the amendment serves the same purpose as the Virginia Acts of Toleration passed in the 1770's - namely, it prevents Congress from establishing an official state church, such as the Church of England.
The supporters of the amendment clearly believe it allows more freedom of religion than ever before while prohibiting a national church from restricting the religious liberty of any.
Stranded at Serampore (Editor's Notebook)
I never would have sought it. But looking back now I wouldn't have missed it for anything. I was in India in December of 1992 scouting locations for a still hoped for film on the life of William Carey. The Ayodhya crisis erupted and all India was thrown into chaos. No one was allowed out on the streets or you could be shot on sight. I was stranded for days in William Carey's own bedroom at Serampore near Calcutta. What an opportunity to reflect on his life and mission at the very place where he made missionary history and set an example that would inspire countless others after him to give their lives in service abroad.
If you take the time to read a Carey biography, and two are suggested below, you can only marvel at how he persisted. For Carey faced every conceivable kind of resistance to his mission - family, political, business, economic, ecclesiastical, even the catastrophe of a devastating fire that destroyed years of his work. What was his secret? Carey's explanation was that he was a 'plodder.' He just did what he could day by day. Not an astounding secret for an incredible life, is it?
But what I did find astounding was the lasting impact of his life. Even though we lived for days in that national state of emergency mentioned above, I never sensed personal danger. For the Indian people extended kindness and sacrificial care in every conceivable way. They knew we had come to work on Carey's story. They so revered and treasured Carey's ministry there, 168 years after his death, that they saw it as a way of honoring him in caring for us. This helped me understand why, once Carey arrived in India, he stayed there 40 years until he died, never going back home to England even once on furlough.
-- Ken Curtis