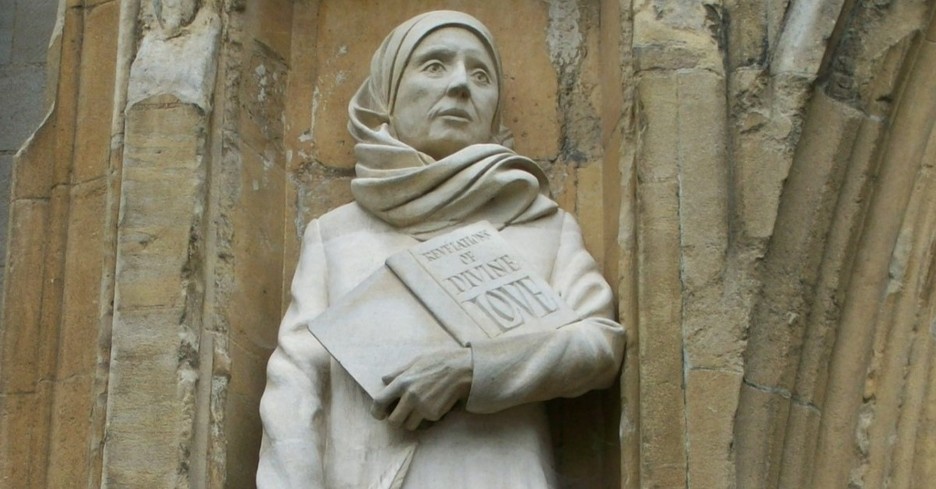 When I was half way through my thirty-first year God sent me an illness which prostrated me for three days and nights. On the fourth night I received the last rites of Holy Church as it was thought I could not survive till day..." So wrote Julian of Norwich, describing a series of visions or "showings" that came to her.
Some time earlier, she had prayed for three things: To understand Christ's passion, to suffer physically while still a young woman, and to receive from God the gift of three "wounds," which were real sorrow for sin, genuine compassion and a true longing for God. The intent of all these prayers was that she might die to herself and live to God.
It seemed that the second request, at least, was being heard. Julian was in great pain, her eyes dimmed, she became numb to the waist, her breath grew shorter and shorter. Everyone, including her mother, expected her to die.
Early in the morning on this day, May 8, 1373, Julian's pain suddenly left her. It came into her mind to ask God again that she might understand Christ's passion. At once, she saw blood flowing from an image of Christ. Later she declared, "The most precious blood of our Lord Jesus Christ is in truth both costly and copious," and she asserted that God would prefer us to wash our sins in it than in water.
Over a period of about five hours, from 4 A.M. until 9 A.M. Julian received fifteen visions. The following evening she received another which summed up and confirmed the first fifteen. The visions stressed the creative and sustaining power of God and his infinite love for that which he created. Christ's mother Mary appeared, setting a tone of reverence. "How reverently she marveled that He [Christ] should be born of his own creature, and of one so simple."
"It was at this time that our Lord showed me spiritually how intimately he loves us. I saw that he is everything that we know to be good and helpful. In his love he clothes us, enfolds and embraces us; that tender love completely surrounds us, never to leave us. As I saw it he is everything that is good."
Julian recovered her health and recorded her visions in a book called Sixteen Revelations of Divine Love. Either before or after her visions, Julian became an anchoress (a female hermit) and was visited by individuals who sought wise advice. After twenty years of meditation on her showings, she wrote a longer version of her book. Two or three copies survived into the twentieth century.
Were Julian's revelations from God? She upheld key doctrines such as the Trinity, emphasized the key virtue--love--and recognized salvation as coming through Christ alone. On the other hand, she shocked contemporaries by speaking of Christ as mother. Puzzled by sin and hell, she denied God's wrath and concluded that "everything will be all right," that all souls will eventually be saved. There are other difficulties in her showings. However, her writing represents the flowering of English Medieval mysticism.
Bibliography:
Deen, Edith. Great Women of the Christian Faith. New York: Harper, 1959.
Gardner, Edmund G. "Juliana of Norwich." Catholic Encyclopedia. New York: Robert Appleton, 1914.
Julian of Norwich. Revelations of Divine Love. Translated by Clifton Wolters. Penguin, 1966.
"Juliana." Dictionary of National Biography.
Last updated July, 2007
Photo Credit: Poliphilo/Wikimedia Commons