As I was wrapping up a speaking engagement in the Pacific Northwest, selling and signing a few books, a woman approached with my parenting book in hand and asked if it would be a good book for dealing with a rebellious teen.
I told her no, not really. She looked stunned as I took the book from her hands and said her money would be better spent on another book and offered a suggestion.
What I lack in sales and marketing skills, I make up for in resources.
When I was a new mother, my own mother told me I would do well to get my nose out of books and into life. She was right. You don't need a lot of parenting books, but when young families are often miles from the watchful eyes of grandparents and other family members who might actually know something about raising children, now and then a book or two can be very helpful.
For example, if I were an inexperienced mother stranded on a desert island with a dozen spirited children and only allowed one book, it would be a book on how to swim. No, not really. It would be one of two books by Ross Campbell. How to Really Love Your Child is a short but all-encompassing guide that refers to a wonderful notion of "filling your child's love tank."
How to Really Love Your Teenager by Campbell is more of the same and has an excellent chapter on expressing anger that can easily apply to the entire family, or a small mob on a desert island.
When I left my job to do the full-time mom thing, it was an awkward transition. I missed being with people who could talk, eat food that required utensils and take care of their own bodily needs. "Home by Choice," by Brenda Hunter, was a wonderful encouragement in making the shift.
If you find your child has more negotiating skills than Condoleezza Rice, open up a copy of James Dobson's book The Strong-Willed Child. You may have to keep this one under lock and key, because when you get it out (and you will, again and again), your kids will know that there are going to be some changes. Dobson is about love, boundaries and consistency.
Children: The Challenge, by Rudolf Dreikurs, is a bit outdated and thick enough to double as a door stop, but it is a classic read for learning how to help children link actions with consequences.
John Rosemond says he doesn't remember his mother ever exclaiming, "these kids are exhausting!" Rosemond says if your kids continually exhaust you, they are too demanding. Family Building packages Rosemond's approach nicely, but it is best to wear thick skin before reading Rosemond. He has a way of making a parent uncomfortable and smarter.
A bookstore used to award points toward book purchases for every A on a child's report card. When our son was in second grade the bookstore manager informed him that music and art didn't count. I wanted to, well, I wanted to give her a copy of Howard Gardner's Frames of Mind: The Theory of Multiple Intelligences. The book gives insight into the many ways children learn. And for the record, music and art "do count."
The aforementioned books are either sitting on our bookshelves, or are out on loan. The books are worn, dog-eared and tattered. Books can never take the place of mentors with a wealth of experience, but they can become your very good friends.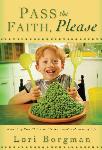 Columnist and speaker Lori Borgman is the author of several books including Pass the Faith, Please (Waterbrook Press) and All Stressed Up and No Place to Go (Emmis Books). Comments may be sent to her at [email protected].