What to Do While You Wait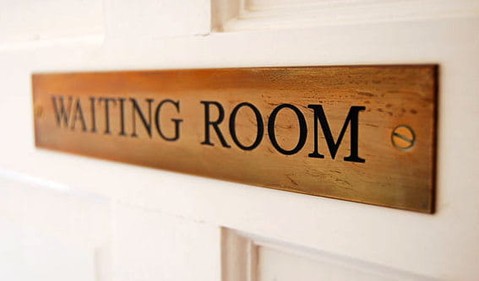 Our hero is in prison.
Not because he did wrong but because he did right.

Here is the single most important fact about Genesis 40.
At the beginning Joseph is in prison.
At the end he is in prison.

That's not fair, but there it is.

In this series on the life of Joseph, we're looking at nine crucial questions. So far we have considered two questions:

Do you know why you were born?
Do you know who you are?

Here is today's question:

Are you willing to wait for God?

In this chapter Joseph is waiting because there is nothing else he can do. He can't get out of prison, he can't appeal his sentence, and he certainly can't escape. He's stuck in an Egyptian prison, far from home where they think he's dead anyway. He has been falsely accused of rape by Potiphar's wife.

You don't have too many friends in that situation.
So he waits.
At this point readers of this story face a problem. Because we know how Joseph's life ends up, it's very easy for us to read Joseph's story in light of how it ends. We know that eventually he emerges triumphant, and that he will one day say to the brothers who betrayed him, "You meant it for evil against me, but God meant it for good" (Genesis 50:20).

Our problem is, we read this whole story as if Joseph himself knew how it was going to end.

That's not true.

When Joseph was thrown into the pit by his brothers, he had no idea what was going to happen next. He knew as much about his future as you do about yours. It's not as if God whispered, "Hang tough, kid. Don't let 'em get you down. Pretty soon you'll be the Prime Minister of Egypt." It didn't happen that way. This isn't a fairy tale.

When Joseph is stuck in prison, he has no "inside knowledge" regarding how or when or if he will ever get out. He certainly knows nothing of the baker and the cupbearer.
So let's read Genesis 40 as Joseph would have lived it, with no hint of what the future might hold. Here's a short summary of this chapter:

In jail.
Two men.
Two dreams.
Two interpretations.
One lives, one dies.
One man forgets.
In jail.

That's the whole chapter right there.
Meanwhile Joseph waits to see what will happen next.

Waiting is perhaps the hardest discipline of the Christian life. Most of us hate to wait. I know I do. Probably all of us are waiting for something at this very moment.

Waiting for your grades.
Waiting to graduate.
Waiting to be accepted to college.
Waiting for your first job offer.
Waiting to see if the bank will give you a loan.
Waiting for the right time to start a family.
Waiting for a church to call you.
Waiting for your loved ones to come to Christ.
Waiting to meet the right guy or the right girl.
Waiting to be married.

Waiting to find out what God wants you to do.
Waiting for someone to buy your house.
Waiting for your prayers to be answered.
Waiting for your husband to come home from a business trip.
Waiting for your oldest daughter to come back to the Lord.

We all have to wait whether we like it or not. Truth be told, most of life is waiting. For instance, when you watch a football game on TV, most of the time nothing happens. By rule the actual game takes 60 minutes to play, but the average NFL telecast lasts three hours. According to an article in the Wall Street Journal, in the average NFL telecast the actual playing of football takes up eleven minutes. If that's true, then what happens the rest of the time? In that three-hour block of time, you have . . .

60 minutes for commercials.
75 minutes when the players are standing around.
17 minutes for replays.

After a few other miscellaneous things are thrown in (such as crowd shots and talking heads in the booth and shots of the cheerleaders), what you are left with is . . .

11 minutes of actual football.

I take it as a parable of life itself:

The action of life is small.
The waiting is large.

Warren Wiersbe says this about Joseph's time in prison:
"God permitted Joseph to be treated unjustly and put in prison to help build his character and prepare him for the tasks that lay ahead. The prison would be a school where Joseph would learn to wait on the Lord . . . He would learn that God's delays are not God's denials" (Be Authentic, p. 111).
We will all spend a lot of time waiting for something to happen. The question then becomes, what do you do while you wait? I find three answers from Joseph's prison time in Genesis 40.
You can read the rest of the sermon online.
You can reach the author at [email protected]. Click here to sign up for the free email sermon.
---
---