St. Martha of Good Deeds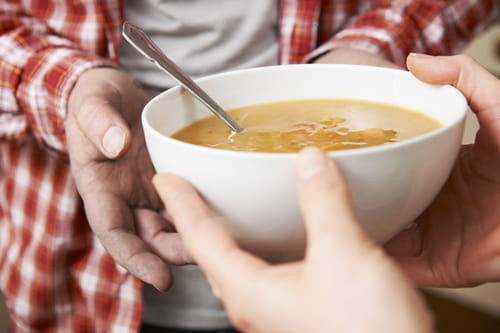 "So they gave a dinner for Him there; Martha was serving them" (John 12:2).
There are many good examples of hospitality in the Bible, but perhaps none so interesting as the story of Mary and Martha in Luke 10. You remember that Jesus was coming to Bethany with his disciples. When Martha heard about it, she "opened her home to him" (Luke 10:38). Naturally she wanted everything to be just right so she spent her time bustling around cooking, cleaning, checking the silverware, and sweeping the floor. Meanwhile her sister Mary was just sitting there—crosslegged on the floor, no doubt—listening to Jesus talk.
Martha didn't like it. And the more she thought about it, the angrier she got. Finally she interrupted Jesus with a complaint we can all understand. "Lord, don't you care that my sister has left me to do the work by myself? Tel her to help me!" (Luke 10:40)
Jesus' answer has often been construed as a rebuke to Martha's busyness, but that's not exactly right. "Martha, Martha, you are worried and upset about many things, but only one thing is needed. Mary has chosen what is better, and it will not be taken from her" (Luke 10:42). Martha's problem was not that she was bustling around getting things done. No, without Martha the meal would never be served. Jesus and his disciples would starve if they had to depend on dreamy-eyed Mary. Martha's problem was that she forgot why she was doing all the work in the first place. She was "distracted" and "worried" when she should have been glad that Jesus had come to
We thank God for those dedicated servers who focus on meeting physical needs, especially those who spontaneously and gladly open their homes to others. Who is ready to host a visiting missionary? Who will open their home for a Sunday School class social? Who is glad for the teenagers to come over? Who would make available a spare bedroom for an unwed mother waiting to have her baby? Who is ready to provide a meal on a moment's notice? Maybe the question is not who. Maybe the question is, should it be you?
God bless all the Marthas of the world. Nothing would get done without them. Someone has to visit the nursing home, someone has to knit blankets for the new babies, someone has to take a meal to a sick person.
When the story is told of Mary pouring oil on Jesus' feet, we rightly focus on her extravagant generosity. But don't forget her sister Martha. Who planned the meal? Martha. Who prepared it? Martha. Who served it? Martha. Who do we remember from that night? Mary. That's how life is sometimes. I'm not sure what Martha thought about her emotionally-expressive sister. I imagine that sometimes she rolled her eyes, and sometimes she felt like saying, "Come back to the kitchen and give me a hand."
It takes all kinds to make a world. Tomorrow we'll talk more about Mary. But for today, let's give three cheers for the Marthas of the world. They serve in the nursery, work in the kitchen, keep track of the supplies, and they organize the leaders who drive the kids to summer camp.
God bless all the Marthas in our midst. They too are serving the Lord, and without them nothing would get done.
Lord Jesus, I pray for a servant's eyes to see the needs around me, and I pray for a servant's heart to respond with servant hands, ready to do whatever needs to be done. Amen.
You can reach the author at [email protected]. Click here to sign up for the free email sermon.
---
---