Sing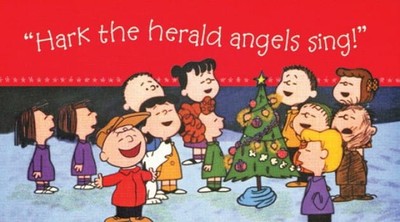 "Sing praises to the Lord, for he has done glorious things. Let this be made known throughout the earth" (Isaiah 12:5).
Christmas and music go together.
Most of us can't imagine celebrating Christmas without singing "Silent Night" or "The First Noel" or "Away in a Manger." Each year we hear Christmas music in church, on the radio, and when we shop at the mall. When we hear these songs, we can't help but sing along.
Christianity is a singing faith. Martin Luther wrote these wise words about the value of music in the Christian life:
"I have no use for cranks who despise music, because it is a gift of God. Music drives away the devil and makes people happy; they forget thereby all wrath, unchastity, arrogance, and the like. Next after theology I give to music the highest place and the greatest honor."
There have been many occasions when I came to church on Sunday morning feeling weak and tired. Perhaps it was because of a busy week or perhaps I was carrying a particular burden. Sometimes my mind would be going in a thousand different directions. Then the worship service would begin. It might be with the pipe organ playing "Come, Thou Almighty King," or it might be with the worship band leading "In Christ Alone." Or it might be singing "Like a River Glorious" or "It Is Well With My Soul" or "Guide Me, O Thou Great Jehovah," or perhaps it was a new worship chorus I was learning for the first time. As the congregation worshipped, my mind cleared, my doubts departed, my worries receded, my faith swelled, my heart was lifted to heaven, and when the time came to preach, the Holy Spirit came in great power. This has happened so many times I cannot believe it was by chance.
I love the music of Christmas most of all. On my iPhone I have a playlist of more than 800 songs. Over 100 of them are Christmas songs. I play those songs while I ride my bike, which means I listen to Christmas music all year long. It may be 90 degrees in July, and I'll be listening to "Hark! The Herald Angels Sing" or "The First Noel" or "Joy to the World." I see no reason to confine Christmas music to one season of the year.
The application of this is very simple.
Let the pastors sing!
Let the elders sing!
Let the adults sing!
Let the children sing!
During this season of the year, we ought to sing more than ever:
Sing Christmas carols.
Go to a Christmas concert.
Sing to your children.
Teach your grandchildren "Away in a Manger."
Some of our greatest music comes from this season. Let's sing our way to Christmas this year.
Lord, you have given us a new song. Help us to sing out loud and drive the devil away. Amen.
Musical Bonus: The Sidewalk Prophets tell the Christmas story in their upbeat arrangement of Oh What a Glorious Night.
Click here to sign up for the free email sermons.
---
---